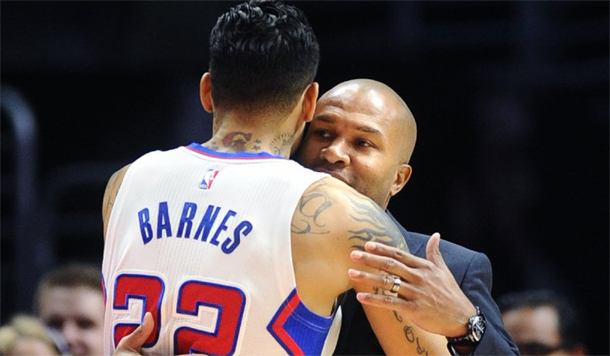 Back in October, the NBA world got a quick chuckle when rumors broke of a physical altercation between Knicks coach Derek Fisher and Matt Barnes of the Grizzlies. The recently-separated Fisher was reportedly at the home of Barnes, seeing his estranged wife. When Barnes learned of this, it didn't sit well with him and he drove to the home to confront Fisher.
Hard to really blame Barnes here. After all, Fisher is his former teammate.
Today, the NBA has come down on Barnes, suspending him 2 games. A couple of questions come to mind: 1) Why did that take so long, and 2) Is Fisher absolved of any culpability? Because there's no initial report of punishment for him.
The NBA has suspended Memphis Grizzlies guard Matt Barnes two games for a physical altercation with New York Knicks coach Derek Fisher at the home of Barnes' estranged wife in Southern California in October, league sources told Yahoo Sports.

Fisher had flown to Los Angeles on an off day of Knicks training camp and was visiting with Barnes' estranged wife, Gloria Govan, with Barnes' children at the house.

Barnes, 35, confronted Fisher and a physical altercation ensued. Barnes and Fisher had been good friends as teammates with the Los Angeles Lakers.
H/T: Yahoo