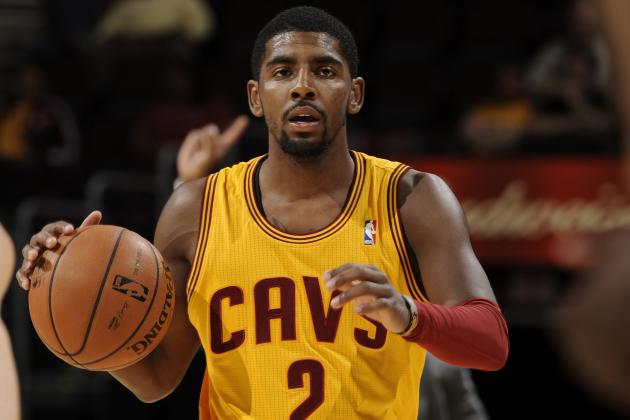 Kyrie Irving is set to play his first game since breaking his left kneecap in last season's NBA Finals. Last week, he was cleared to practice, and despite being bullish about committing to a return date, he was positive.
"I'm a Ferrari without a rearview mirror. Today, there was a lot more up and down, being able to test my wind, being able to test my knee, going from offense to defense and translating and being able to get out in the fast break and being able to try my moves that I've been practicing, kind of knock off most of the rust I've had," he said.
The Cavs have been cautious with managing Kyrie Irving's recovery, with David Blatt earlier in the week still non-committal about any information regarding a return for Uncle Drew. On Thursday, he went through a full practice, and Blatt noted his status as being "day to day". That practice was the last one before the Cavs' two game road trip against the Magic, finishing later next week in Boston.
Blatt did say "There's a chance that one or two (Kyrie or Shumpert) or both will play on the trip, but there's also a chance they don't."
Per McMenamin, Irving has been participating in five on zero offensive drills and light one on one, but still doesn't have a timetable to return. Given Irving's history of injuries, it's understandable that the Cavs are being cautious with his comeback.
After coming back to practice, Kyrie Irving had this to say:
"I think the biggest thing for me is getting over the mental hump of being able to go out there and still compete. I've kind of been itching for the last few weeks, but finally getting my trainers' clearance as well as our organization to go out there and practice with the guts, have 5-on-5, going up and down, finally being able to hit guys a little bit and have guys hit me, as a competitor, I've been itching for that. There's no better place to be escaping here with guys that I call my brothers. We're part of a big family. We definitely have a little ways to go before I get back on the court with the guys, but this week has been great."