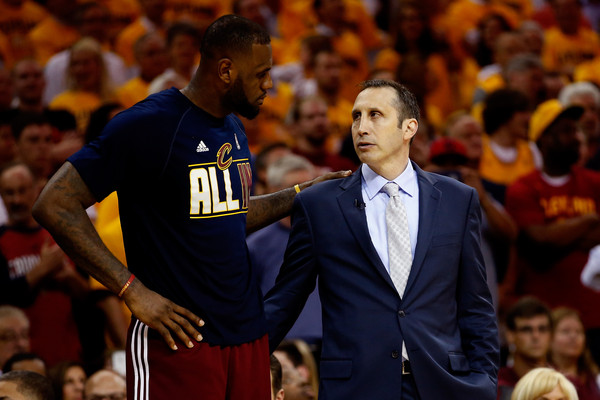 For a bona fide championship contender, the Cleveland Cavaliers sure hold a lot of irregular team meetings.
Irregular, of course, meaning specifically called confabs, not everyday powwows—such as the one Cavaliers coach David Blatt held before Cleveland's Monday night win over the Phoenix Suns.
From the Cleveland Plain Dealer's Chris Haynes:
Before the Cleveland Cavaliers broke their two-game losing streak by defeating the Phoenix Suns 101-97 on Monday, they had a team meeting in the morning, league sources told cleveland.com.

Head coach David Blatt called for the meeting before the team took the court for shootaround, sources said. Concerned about the psyche and spirit of his guys, Blatt used the time to address his team instead of going through the usual pre-shootaround film study.

"In tough times you've got to show a little bit of leadership and lift your troops," Blatt told cleveland.com in confirming the meeting. "That was the whole purpose of it, to fire them up a little bit and lift them a little bit. They certainly this year have been doing their part, and I had to step in an do something myself."
Players, per Haynes, were encouraged by the chat, and not just because it proved someone other than LeBron James has the authority to call for unscheduled meet ups.
The issue here, though, is why the Cavaliers needed said meeting at all. Regardless of what Blatt said, it goes beyond a miniature two-game losing streak that featured one closely contested loss to the league-lording Golden State Warriors.
The Cavaliers have developed a nasty habit of playing down to the level of inferior opponents. They're often able to get up for high-profile games, but they struggle to eke out victories over teams that have no business competing with them.
Case in point: Monday night's win over the Eric Bledsoe-less Suns. There's no reason why the Cavaliers shouldn't have left Phoenix with a double-digit victory. But they did what the always do, letting the Suns hang around before ultimately pulling away at the end. That's been their modus operandi all season, and they need to get off to faster starts if they plan to ever look like the finished product they're supposed to be.