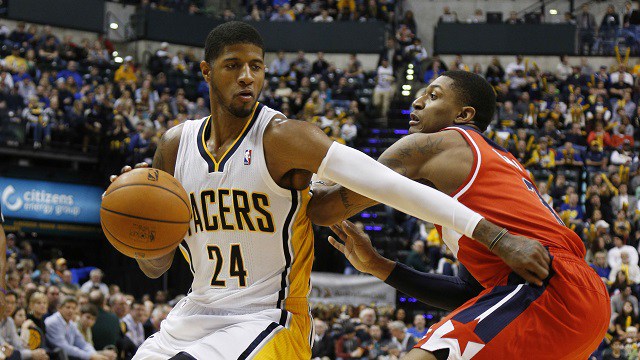 While the rest of the world has been enthralled by Stephen Curry's historically brilliant play as of late, Paul George has snuck under the radar, putting up some big numbers. Per 100 possessions, he's putting up very similar numbers to David Robinson in 1994, LeBron in 2013, or Larry Bird in 1988 – around 40 points, 13 boards and 8 assists. Not bad company at all.
After their win over the Pacers' win over Washington, in which Indiana knocked down the most threes in franchise history, Frank Vogel had this to say:
"It's tough to quantify in words. I mean, he just does so much. He's capable of going for 40, carrying the offensive load and being the best defensive player on either team. He's a special player, and the best two-way player in the game. We're a different team with him out there."
He's not wrong, either. George's on-ball defense is up there with anyone else in the league. He has an innate talent of pushing his man into the help defense, while keeping him in check laterally, and most brilliantly in an era of –ticky-tac foul calls, avoids the whistle. He's mastered the art pioneered by Andre Iguodala of keeping your hands down to not elicit foul calls while keeping contact to bother the shooter, and clearly it's working – opponents are shooting 30% against him one-on-one; George ranks in the 82nd percentile for isolation defense, per Synergy Sports. He allows just .667 points per possession as the primary defender in the pick and roll, enough for the 74th percentile.
In his last 11 games, he's averaged 30 points, 9 rebounds, 5 assists, and 2 steals a game, on 48% / 50% / 84% shooting.
George is playing out of his skin at the moment, and in effectively a comeback season from THAT injury, he and the Indiana Pacers deserve absolute credit for the work he's put in, and the admirable faith shown in him to create a system built around his strengths that is allowing an Indiana squad to overperform, given their depleted nature from the number one seed days of 2013.
Is he MVP-good right now? Probably not, given that Steph Curry is still playing as well as anyone in the history of the game. But assuming (and I don't want to, given Curry's record of proving detractors wrong – but the stats HAVE to average out, they HAVE to!) that Curry's statistics tend negatively to average out to something remotely in-this-world, Paul George is a real contender for the most coveted individual prize in basketball, if he keeps this pace up.