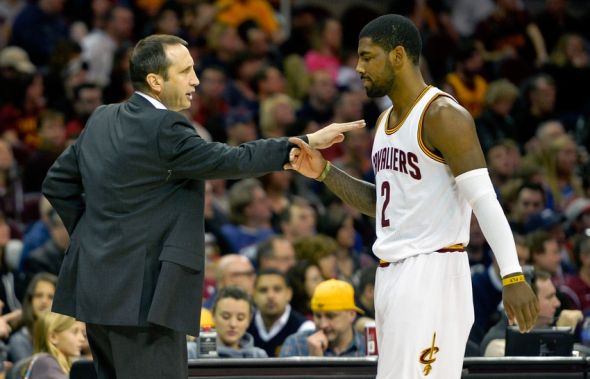 Life is, by all appearances, good for the Cleveland Cavaliers.
They are winners of seven straight leading into Friday night's bout with the New York Knicks and own the Eastern Conference's best record. LeBron James is playing defense like it's 2010 and balling out on offense when he feels like it. (Though, I must ask, where has his three-point shot gone? Are his long-range follies a "playing in Cleveland" thing?) Even Kevin Love looks rejuvenated. He's healthy and a more involved member of the offense, and his aggression on the glass is approaching 2013-14 levels of awesome. Matthew Dellavedova is hitting threes. Mo Williams is, well, Mo Williams.
But, while it's scary to think about this, life could be better.
J.R. Smith could be hitting shots. Iman Shumpert could be healthy.
Kyrie Irving could even be semi-close to a return from the factured kneecap he suffered during Game 1 of the NBA Finals.
Except he's not. Not according to head coach David Blatt, per Northeast Ohio Media Group's Chris Haynes:
After practice on Thursday, Cavaliers head coach David Blatt made it sound as if point guard Kyrie Irving isn't close to a return to action.

"[We're] not rushing things and not letting up from the day-to-day work, but still a ways to go," he said. "And how much, I can't honestly tell you, but he's working at it every day." …

He has yet to participate in a practice session. His daily work includes building up his legs and some on-court work. He will not join the team for their three-game road trip beginning with the New York Knicks on Friday, cleveland.com is told.

Since the Cavaliers are off to a 7-1 start, there's no sense in activating their three-time All-Star prematurely. In the meantime, he'll continue to work.

"We're just taking small steps," Blatt said. "Small and sure."
That last point is important. The Cavaliers have no reason to rush Irving back. The Eastern Conference doesn't demand it, so they shouldn't either.
Still, you want Irving in the lineup, with LeBron and Love. It makes their lives easier, and it should prevent the Cavaliers from getting into such closely contested dogfights with clearly inferior teams, such as the Knicks and Philadelphia 76ers.
There's also the whole "world domination" thing.
The Cavaliers were a plus-12.6 points per 100 possessions last season when those three shared the floor, according to NBA.com, and they were even better following LeBron's return from his January sabbatical, posting a plus-16.3 through 33 appearances together from that point on. That's more than double the Cavaliers' current net rating, per NBA.com. Shoot, it's almost as good as the historically great Golden State Warriors' plus-17.2 mark at the moment.
Irrespective of what's happening now, if you're the Cavaliers, you want Irving in back in the fold, if only to make a good life great.