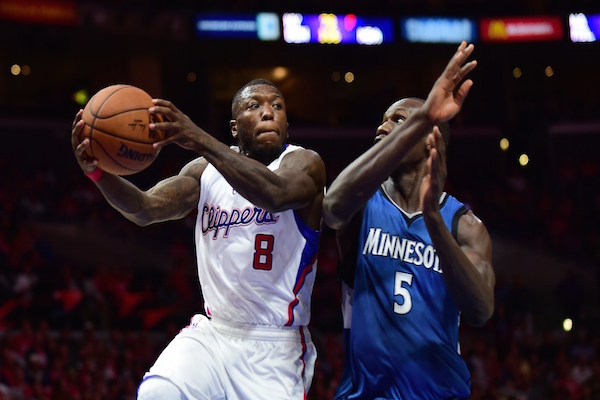 Nate Robinson is once again going to be employed by an NBA team.
Everybody party.
Especially if you're a New Orleans Pelicans fan.
Marc Stein of ESPN.com had the deets first:
ESPN sources say Pelicans are signing veteran guard Nate Robinson

— Marc Stein (@ESPNSteinLine) October 15, 2015
It's a one-year veteran minimum deal for Nate Robinson with New Orleans, which also signed Euroleague ace Bo McCalebb to fortify backcourt

— Marc Stein (@ESPNSteinLine) October 15, 2015
John Reid of the Times-Picayune added another note:
Nate Robinson agrees to one-year, non-guaranteed contract with Pelicans, arriving tonight and will practice tomorrow, sources say.

— John Reid (@JohnReid64) October 15, 2015
Yours truly, meanwhile, offered a sub-140-character taste of what we're in for now that Robinson and NBA overlord Anthony Davis are teammates:
When Nate Robinson launches an ill-advised contested 29-footer with 19 seconds left on the shot clock. pic.twitter.com/fhlgvrCyb3

— Dan Favale (@danfavale) October 15, 2015
Robinson, now with his eighth NBA team, is a necessary addition for New Orleans. The 31-year-old—oh my god, Nate Robinson is actually 31; do you feel old?; I feel old; so old; holy crap, he's actually 31—will help offset Norris Cole's latest injury, as well as Jrue Holiday's strict minutes limit.
Entering his 11th season, now with an ACL injury to his name, Robinson isn't the athletic, rim-razing, dunk-contest-dominating specimen he was a five or so years ago. He's woefully undersized at 5'9″, and he still takes unwarranted shots.
Still, when he's on, he's on. That he's a 36 percent shooter from deep for his career helps, too. Pelicans coach Alvin Gentry values floor spacing, and Robinson, while he prefers to work off the (circus) dribble, should be able to double as a spot-up shooter, allowing Davis, Tyreke Evans and Eric Gordon enough touches on the rock themselves. And if he's healthy, Robinson is a good enough driver and kicker—you just need to be explicit on the "kicker" label. He's prone to ignoring orbiting teammates as he attacks the rim or zig-zags in and out of the paint. He's also not the ideal pick-and-roll partner, since he's too small to see over screens, making it difficult for him to toss quick and accurate passes.
Evans and Gordon can sync up with Davis on pick-and-rolls, though. Right now, the Pelicans just need an additional playmaker. Robinson has always been described as a ridiculously undersized shooting guard, but he has a lifetime assist percentage north of 22, according to Basketball-Reference. To put that in perspective, Eric Bledsoe, a fringe All-Star, has a lifetime assist rate of just over 25 percent. That's an apples and oranges comparison to some extent, but the point is, Robinson isn't a certified ball-stopper. He has enough playmaking abilities to bridge the gap between the start of the season and Cole's and Holiday's returns to full strength.
At this stage of the "offseason," the Pelicans cannot ask for much more.