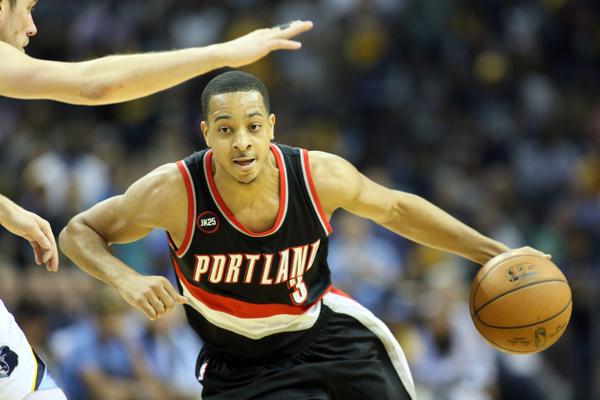 C.J. McCollum knows it's go time.
Entering his third NBA season, McCollum now needs to make the transition from developing complementary piece to key building block as the Portland Trail Blazers look to rebound and regroup after a franchise-altering offseason in which 80 percent of last year's starting lineup journeyed elsewhere, by way of trade and free agency.
At 6'4″, McCollum is more of a shooting guard. Almost 90 percent of his minutes have come at the 2 spot since entering the league, which is of little surprise knowing superstar Damian Lillard is already in place at the 1.
But positional designations are increasingly meaningless. McCollum will see time as the primary playmaker when Lillard is on the bench, as well as when the Blazers elect to use Lillard as an orbiting off-ball shooter and deadly three-point threat. McCollum will be used in similar fashion, vacillating between an on and off-ball threat.
So, in order to improve his game, McCollum spent a few days working out with future Hall of Famer Steve Nash, who, for the record, is now reportedly joining the Golden State Warriors as a player development consultant.
Mike Richman of the Oregonian has the details of McCollum's offseason meet-up with Nash:
McCollum spent three days in Toronto working on the court with Steve Nash, a two-time NBA MVP and the General Manager of the Canadian men's basketball team since 2012.

"Working with Steve Nash helped me slow down the game some more, helped me understand pick and rolls and how point guards think," McCollum said. "Having the ability to manipulate guys with your eyes, use you body to hold guys off and then just make the proper reads." . . .

"Working with him and seeing how he approaches a ball screen, how he approaches his defender in transition," McCollum said of what he gleaned from the future Hall of Famer. "Just simplifying the game."
This is just a smart, smart, smart move. McCollum won't learn anything on defense from Nash, but the retired floor general is among the best playmakers the NBA has ever seen. He ranks third on the league's all-time assist list, and per Basketball-Reference, his career assist percentage of 41.5 also ranks third all-time among players whose careers spanned more than 50 total minutes (I know, I know). If McCollum is looking to improve his point guard skills, Nash is a worthy tutor.
Statistics also suggest he's a capable shooting instructor. Nash found a way to be super efficient while also shooting a ton of threes, functioning as an off-ball assassin in Phoenix and Dallas when the situation allowed or call for it.
Only 14 times in league history has a player posted 50/40/90 shooting slashes while also qualifying for Basketball-Reference's minutes-per-game leaderboard. Nash represents four of those 14 instances, which is just absurd.
McCollum is shooting nearly 39 percent from deep for his career, but his overall field-goal percentage is hovering just below 43 percent, so there's a thing or two (or 107) that Nash can teach him about scoring off the dribble and as a spot-up shooter. And McCollum put in 40.9 percent of his catch-and-shoot treys as it was last season; that's already incredible.
Imagine what he might do next season, after learning from one of the best to ever play the game.