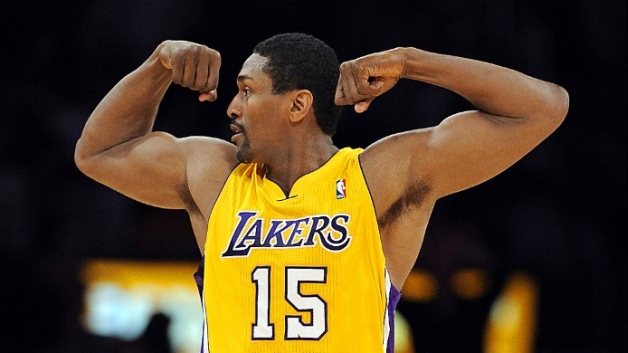 A very familiar face could be headed back to the NBA.
Metta World Peace has been spending most of his time overseas, playing in China and Italy over the past two seasons. The last time we saw him play in the NBA was with the New York Knicks in 2014, during which he averaged 4.8 point per contest in 13.4 minutes of playing time across 29 games.
But even before his brief stint with the Knicks, World Peace, who's formerly known as Ron Artest, spent four productive seasons with the Los Angeles Lakers and won his first and only championship ring on a team led by Kobe Bryant and Pau Gasol in 2010.
That being said, an improbable reunion between the Lakers their former starting small forward could materialize this season, per Adrian Wojnarowski of Yahoo!Sports:
The Los Angeles Lakers are discussing the possibility of signing free agent forward Metta World Peace to a one-year contract, league sources told Yahoo Sports.

No deal has been agreed upon, but there have been talks between the Lakers and World Peace's representatives, league sources told Yahoo Sports.

There are varying degrees of interest within the Lakers organization about bringing him back to the franchise at 35 years old, but World Peace has been in the Lakers' practice facility this offseason playing against the team's players, including 2014 first-round pick Julius Randle, league sources told Yahoo Sports.
Bringing back World Peace absolutely would be the wrong move for the Lakers.
We all know the purple and gold have a pool of promising young talents—headlined by Julius Randle, Jordan Clarkson and D'Angelo Russell. Helping them develop by adding some veteran presence could help quicken this process, however World Peace throughout his career has always proved to be more of a distraction than a developer of talent. There are also several better options for them to choose from than World Peace for this veteran presence.
To his defense, World Peace has had a respectable NBA career—a Defensive Player of the Year, a one-time All-Star and more importantly a championship ring. But when it comes to personality and attitude, the Lakers need to deeply reconsider signing him.
Why? See for yourself:
But then again, optimistically speaking he could still have some fuel left in the tank to add some intrigue in the next season for the Lakers. One thing I'd be curious about….will Kobe Bryant be happy to have his old battle warrior back, or see him as a distraction?
Benjamin Felix Santos' basketball career didn't work out pretty well so he decided to write about basketball instead.
Follow @biefsantos