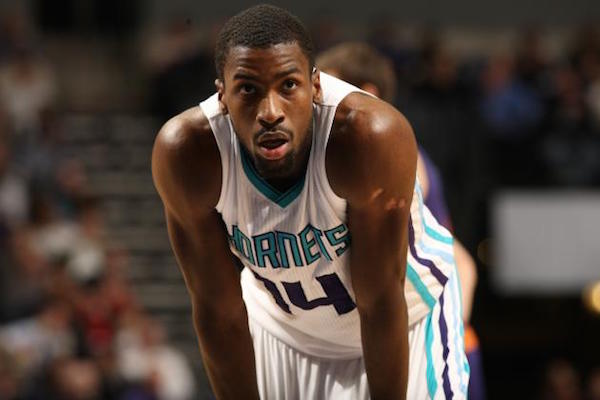 Michael Kidd-Gilchrist is worth more than Kemba Walker.
Sort of.
The Charlotte Hornets took care of their impending restricted free agent point guard ahead of last season, electing to lock him up on a four-year, $48 million extension rather than allowing him to test the semi-open waters. Walker remains one of the most inefficient floor generals in the league, but if the Hornets wanted to keep him, they made the smart play. Waiting for restricted free agency, in this currently wacky salary-cap climate, only would have cost more money.
A lot more more money.
And so, with that in mind, the Hornets have now reached an agreement with MKG on a four-year, $52 million extension. Here's Yahoo Sports' Adrian Wojnarowski with the details:
Charlotte Hornets forward Michael Kidd-Gilchrist is finalizing a four-year, $52 million contract extension, league sources told Yahoo Sports.

The agreement will be finalized this week with a news conference to follow, league sources said.

As a member of the 2012 NBA draft class, Kidd-Gilchrist is eligible for a rookie extension prior to the start of the 2015-16 season.

Kidd-Gilchrist, the No. 2 overall pick in the draft, has developed into a cornerstone player for the Hornets at small forward. With the extension, the Hornets and Kidd-Gilchrist will avoid him becoming a restricted free agent next summer.
MKG's extension won't kick in until the 2016-17 season, so technically he's not making more than Walker. But you get the point.
As do the Hornets.
Four years and $52 million would have seemed like a substantial commitment not too long ago. But with the salary cap set to reach $89 million next summer, MKG's new deal can only be described as reasonable. It might even be a steal.
The soon-to-be 22-year-old wing is right up there with Kawhi Leonard and Draymond Green as one of the most effective, versatile defenders in the game. The Hornets have fielded a top 10 defense in each of the last two seasons, and have done so without a true, heavily used rim protector; there was only Bismack Biyombo.
Head coach Steve Clifford relies on his perimeter guys more than anything, and the Hornets depend on MKG more than anyone. At 6'7″, he can defend shooting guards, small forwards and power forwards, and his sneaky athleticism lets him hang tight with point guards when the situation calls for it.
Offensively, he's still raw. Though he improved his mid-range game last season, he has no three-point touch. He's made just three long balls since reaching the NBA, and the Hornets' offensive scheme actively deters him from hoisting jumpers.
That can make him a huge liability in the pace-and-space NBA. But his elite-level perimeter defense keeps him in the game, and his improving, albeit still-developing, mid-range arsenal lends hope to the belief he'll find a way to move beyond the arc eventually.
Mostly, someone like MKG would have fetched more than $52 million as a restricted free agent.
The Hornets done good here.
Dan Favale is a firm believer in the three-pointer as well as the notion that defense doesn't always win championships. His musings can be found at Bleacherreport.com in addition to TheHoopDoctors.com.