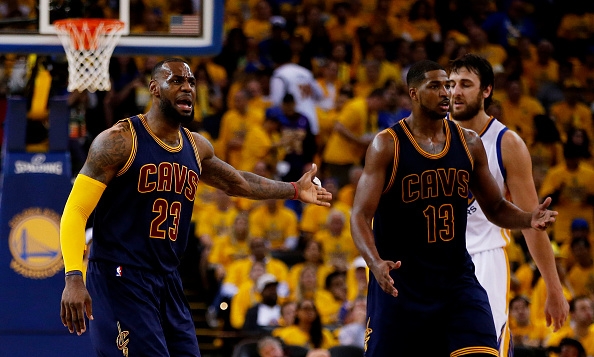 LeBron James' feelings haven't changed.
He believes Tristan Thompson should remain with the Cleveland Cavaliers.
That much has been clear for a while. It was assumed when LeBron first returned to Cleveland, since he and Thompson, a restricted free agent, are both represented by Rich Paul. Then it became an ironclad fact back in May, when LeBron, per ESPN.com's Dave McMenamin, whipped out his crystal ball:
LeBron takes a stance on Tristan Thompson's impending free agency: "Tristan's a guy who should probably be a Cavalier his entire career"

— Dave McMenamin (@mcten) May 25, 2015
Just like that, the prospect of Thompson leaving became remote. The Cavaliers would always have the means to keep him; they could match any offer he receives. But LeBron gave them the motivation to exhaust their means. They have every incentive to keep him happy, and if retaining Thompson keeps him happy, then the Cavaliers will retain Thompson.
And that's the direction in which things appeared to be initially headed. The Cavs offered Thompson a five-year deal worth more than $80 million, according to various reports, and all signs pointed to an early resolution.
More than a month into free agency, after all the money has dried up (outside Philadelphia and Portland), Thompson remains unsigned. And not only is he unsigned, but he's prepared to ink his qualifying offer worth $6.8 million, and then leave Cleveland next summer, per Sportsnet's Michael Grange:
"All I know is TT on Qualifying Offer will be his last year with the Cavs" — Rich Paul on Tristan Thompson negotiations.

— Michael Grange (@michaelgrange) August 10, 2015
Thompson reportedly wants a max contract, which would pay him around $94 million over the next five years, according to ESPN.com's Brian Windhorst. Anyone who's anyone knows that, in a vacuum, Thompson isn't worth a max deal. He's limited offensively, he doesn't protect the rim on defense, and his ceiling is finite as a sixth man on the star-stuffed Cavaliers.
None of which matters.
What matters is LeBron, and what he wants, and what he says. And he still says the Cavaliers need to keep Thompson. As he told reporters on Thursday, per Windhorst:
"Our No. 1 objective right now is to sign Tristan," James said Thursday at Cedar Point amusement park. "He's a huge part of our team. Short term and long term he makes our team more dangerous."

…

Things need to be worked out from his side and the Cavs, but we need him back," James said. "I think our front office has done a great job this summer. The next step is to get Tristan done."
Of course keeping Thompson is the Cavaliers' primary objective right now. For starters, it's August, and teams are short on other objectives. Mostly, there's LeBron, and this pro-Thompson stance of his.
LeBron is actually priority No. 1 for the Cavaliers, making it more and more likely that a deal between them and Thompson's party is hashed out before the 24-year-old is forced to take this standoff to extremes. The complexity of this negotiation is already surprising, but letting Thompson sign his qualifying offer, knowing how LeBron feels, would be outright shocking.