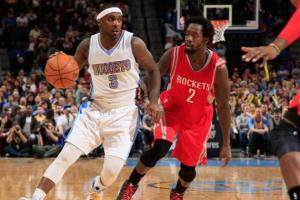 For months, both the Denver Nuggets and their point guard Ty Lawson have been wanting to part ways with one another.
The Nuggets have been patiently looking at, and weighing all the options for them to find the best deal they could get. To no one's surprise, several teams (Rockets, Lakers, and Pistons) showed enormous interest in acquiring
Lawson and it was just a matter of which team could offer the best assets.
And the deal that made sense the most for Denver was with the Houston Rockets.
From Adrian Wojnarowski of Yahoo! Sports:
The Denver Nuggets have reached an agreement to trade guard Ty Lawson to the Houston Rockets, league sources told Yahoo Sports.

Houston will send Kostas Papanikolaou, Pablo Prigioni,Joey Dorsey, Nick Johnson and a lottery-protected 2016 first-round draft pick to Denver, sources said. Along with Lawson, the Nuggets will send a 2017 second-round pick to Houston.
Considering what the Rockets only had to give up in acquiring Lawson, this deal was definitely a steal for them.
Lawson, 27, is a borderline All-Star player that is arguably about to reach the prime of his career. His tremendous speed allows him to consistently move past defenders and drive down the lane to score or find his teammates for an easy hoop. This eases the burden on James Harden at the offensive end, as opposing teams will have another threat to constantly keep a close eye on.
In 75 games last season with Denver, Lawson averaged 15.2 points and career-best 9.6 assists in 35.5 minutes per contest.
However, Lawson has been mentally unstable of late. He's been arrested two times in the past six months because of DUI. He clearly has some personal problems to get over, which could hinder him from playing at his fullest potential.
But the Rockets seemed desperate for better results next season and so they took the risk in picking him up when they had the chance.
After losing Josh Smith to the Clippers, Houston needed to add a new piece that could serve as their x-factor to help them get over the hump. Lawson could definitely provide just that, but it will heavily depend on whether or not he's able to get his mental state back on track.
If he does so, the Rockets have just formed a pretty solid "Big Three" composed of Lawson, Harden and Dwight Howard, which may be enough take them farther next year.
Benjamin Felix Santos' basketball career didn't work out pretty well so he decided to write about basketball instead.
Follow @biefsantos