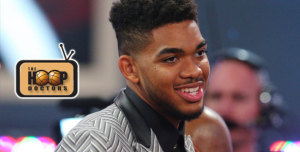 It's mid-July, so that must mean it's time for Gatorade's Athlete of the Year Program to take center stage. Each year, Gatorade honors the nation's top high-school scholar-athletes and it's an event The Hoop Doctors have had the pleasure of covering for a few years now.
THD's Kevin Burke had a chance to chat with the #1 overall pick of the 2015 NBA Draft, Karl-Anthony Towns. The two discussed a variety of topics regarding his selection, but one of the more interesting discussions was about whether or not Kevin Garnett intimidates Towns as the newest member of the Timberwolves….
Please enable Javascript to watch this video
Celebrating its 30th year (established in 1985), the Gatorade Player of the Year program annually recognizes one winner in the District of Columbia and each of the 50 states that sanction high school football, girls volleyball, boys and girls cross country, boys and girls basketball, boys and girls soccer, baseball, softball, and boys and girls track & field. One National Player of the Year is awarded in each sport. In addition to athletic excellence, the award recognizes academic achievement and exemplary character on and off the field. It's truly a tremendous, one-of-a-kind program.