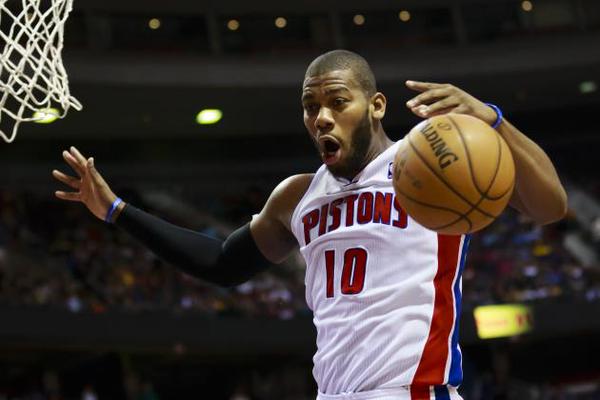 Greg Monroe has signed with his new team.
That team is not the New York Knicks.
According to Yahoo Sports' Adrian Wojnarowski, Monroe agreed to terms with the Milwaukee Bucks on a three-year max deal worth $50 million. Here are the details:
Free agent Greg Monroe will sign a three-year, $50 million maximum contract with the Milwaukee Bucks, league sources told Yahoo Sports.
The deal will include a player option after the second season in 2016-17, sources said.

One of the most sought after big men of July free agency, Monroe plans to join a young core of talent with the Bucks, who made a strong commitment to Monroe. It is immediately unclear if the New York Knicks and Los Angeles Lakers offered max contracts to Monroe. …

Monroe wants to make the playoffs for the first time in his career and choosing the Bucks almost assures him of that opportunity. He had looked closely at the Portland Trail Blazers, but Monroe understood that 45-47 wins in the Western Conference still might not get him into the postseason.

Monroe will make $15.8 million in 2015-16, $16.5 million in 2016-17 and hold a player option for $17.2 million in 2017-18. Monroe can exercise that option in 2017 to re-enter free agency.
Monroe's defense is suspect at best, but he's only 25 years old, and the Bucks have the requisite personnel to cover up for his deficiencies, specifically his lack of rim protection. They maintained the NBA's second-best defense last season without ever fielding a true rim protector. Zaza Pachulia isn't great, though John Henson is a shot-swatting machine.
Mostly, they rely on their long perimeter bodies to get them by. Giannis Antetokounmpo, the newly signed Khris Middleton and Michael Carter-Williams all know how to use their length to their advantage and limit dribble penetration. That'll mitigate the Bucks' need for Monroe to protect the rim, even when he lines up at the 5 alongside Jabari Parker, a suboptimal defender himself.
Besides, this is about the Bucks' offense, which wasn't very good last season. Monroe doesn't inject speed into their system, but they prefer to control the pace anyway. He gives them an interior option they didn't have before—one who is an instant upgrade not just over anyone on their roster, but everyone on the docket.
Ahem:
Greg Monroe scored or created 8 points per game on post ups last season. The Milwaukee Bucks averaged 7.7 as a team. Instant impact.

— Synergy Sports Tech (@SynergySST) July 2, 2015
Playing in the central division demanded a move like this. The Cleveland Cavaliers are still giants, the Chicago Bulls are still relevant, the Indiana Pacers will be healthy the Detroit Pistons look halfway decent. Monroe should keep the Bucks treading water, allowing them to contend for a return to the playoffs.
This, then, is a great signing for Milwaukee, a budding rebuilding team that's closer to a finished product than anyone could have initially imagined.