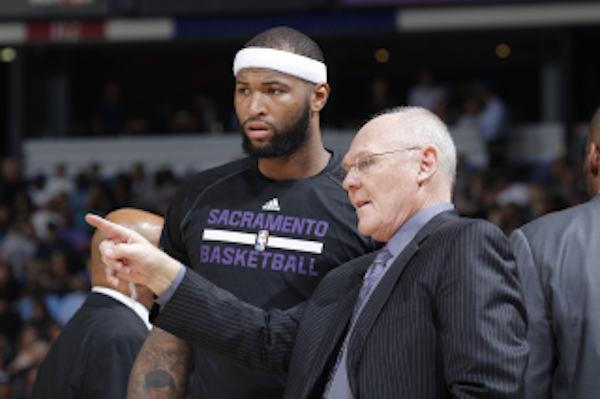 The Sacramento Kings are an off-court tire fire, but hey, at least they're honest about it.
Vice president of basketball operations Vlade Divac has openly discussed the growing rift between head coach George Karl and franchise cornerstone DeMarcus Cousins. Cousins himself has always been an interesting sound bite, and when rumors of discord between he and Karl reached fever pitch, he took to Twitter and let the world know everything was not OK:
????????????

— DeMarcus Cousins (@boogiecousins) June 23, 2015
In recent days, at the NBA's Las Vegas Summer League, Karl himself has had the opportunity to address the far-flung chatter. And usually that opportunity refers to a coach shooting rumors and deflecting any unpleasant musings. But there's nothing usual about the situation in Sactown, and Karl isn't most coaches.
Though he rebuffed some of the more extreme speculation, he readily admitted that all is not hunky dory between he and Cousins.
From CBS Sports' Ken Berger:
What's real is the ongoing rift between Karl and Cousins, who barely crossed paths this week as the All-Star made his way to Vegas. During one game, Cousins sat courtside with Divac while Karl remained in the corner of the stands where many NBA coaches, scouts and execs watch the action. Afterward, they exchanged a limp handshake and barely a word.

"I think Cuz and I have got to figure out how to come together and how to commit to each other," Karl said. …

"I want to talk to Cuz," Karl said. "But the situation, because of how it got, I think we've got to be patient to get to that point. … I trust Vlade. I don't know when it will be or how it will be, but I think [the meeting with Cousins] will happen."
Beyond that, Karl also copped to discussing a Cousins trade, though he didn't portray it as an aggressive, agenda-driven conversation that moved past preliminary consideration.
More from Berger's piece:
The origin of Karl's rift with Cousins was a statement the coach made in the spring that everyone on the roster was tradable, followed by rumblings that Karl himself was shopping Cousins to other teams.

"All that stuff is so out there," said Karl, who nonetheless admitted that hypothetical conversations about trading Cousins occurred "behind closed doors."

"As a coach, in meetings every year and maybe four or five times a year, you talk about what-ifs," Karl said. "And 99 percent of what-ifs never happen. But isn't it our job to talk about what-ifs? Does this make us better? Does this get us in a better place? That's our job.

"There was never a discussion in that area even close to happening, in my opinion," he said. "… Never in the whole time of this experience did I ever think that I wasn't going to coach Cuz."
Tons of teams have trade discussions that are never made public, or at least never made this public. What-if scenarios are, indeed, a part of building and operating a team. You have to talk about everything, even if it's absolutely ludicrous. So for that, Karl needn't apologize.
But his relationship with Cousins is awkward at best, and you have to wonder if these two can put all personal differences aside in time for next season. Especially when Karl has two other rotation bigs in rookie Willie Cauley-Stein and Kosta Koufos.
Basically, the Cousins and Karl debacle is a problem until it isn't.
And, right now, it's still a problem.