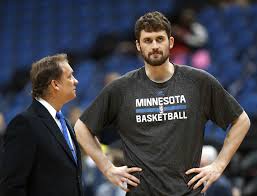 Long before the Minnesota Timberwolves actually traded Kevin Love, the prevailing belief around the NBA was that they were going to move him.
It wasn't a hunch. It wasn't an inkling. It was a fact. And then they actually moved Love to the Cleveland Cavaliers, after a brief dalliance with the Golden State Warriors.
But coach, president and part-owner Flip Saunders apparently wasn't bent on trading Love. He was prepared to coach him during the final year of his contract. As he told Grantland's Zach Lowe:
How do you deal with the amount of luck a team needs? Two years ago, you guys are chasing the no. 8 seed with a team on the rise. Everything goes to hell, and Kevin Love wants out. Then Cleveland wins the lottery again, LeBron comes home, Andrew Wiggins is available, and you guys win the lottery a year later. Could you ever replicate that?

Two years ago, when we were fighting for the eighth spot, we had a feeling that we just were who we were — that we were not going to ever move up much. That started the situation with Kevin.

But you say luck, and maybe I say patience. I didn't have a problem keeping Kevin into the final year of his deal and coaching him. Guys just don't turn down the extra year and $30 million. Even though he maybe wanted to leave, I thought we still had an opportunity to re-sign him. When you are patient, you can say, "This is what we need to get something done, and if we don't get it, we're keeping him."

Then things kind of fell into place, with LeBron going to Cleveland and [Andrew] Wiggins becoming available. That's when you can say "lucky."
This makes total sense, even if you think he's bluffing to an extent. The Timberwolves, when half-healthy, were a fringe playoff team with Love. Saunders could have been of the mind that they were better off competing for that eighth and final playoff spot, and then trying to sell Love on their future in free agency.
The Timberwolves, of course, didn't remain healthy, so that plan would have been blown straight to hell. Los Angeles Lakers fans would have been happy, though. Love almost assuredly would have left.
Saunders' thinking, insofar as he actually wasn't waiting for the Warriors to up the ante on their roster at the time, is not crazy. Players don't just turn down that fifth year, as Love himself showed by re-upping with the Cavaliers.
That situation is totally different, because he's now on a ready-made contender, but the same logic still applies. He hasn't been a billboard for health over the last seven years. He could have been compelled to pad his bank account with that extra year, and then perhaps try to force a trade later.
Alas, it doesn't matter. Love is in Cleveland, and the Timberwolves ended up with Andrew Wiggins and, by extension of that trade, Karl-Anthony Towns. As far as rebuilds go, they're sitting pretty.