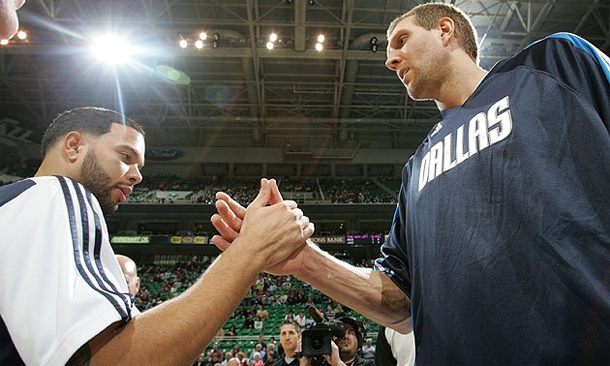 Deron Williams is coming back home.
Having been bought out by the Brooklyn Nets in order to decrease their payroll, Williams begins yet another chapter of his career in the league. This time, he's decided to head back home and hopefully blossom with Dirk Nowitzki and the Dallas Mavericks.
Both sides have reached a consensus in a two-year $10 million contract that includes a player-option on the second year, according to league sources.
Mark Cuban announces on Cyber Dust that Deron Williams has officially joined the Dallas Mavericks. pic.twitter.com/y5msc78aLV

— SportsCenter (@SportsCenter) July 15, 2015
The Mavs confirmed this acquisition via tweet:
OFFICIAL: Join us in welcoming PG .@DeronWilliams to the Dallas Mavericks! http://t.co/wv5yhx5crj pic.twitter.com/nrpZWbDOYK

— Dallas Mavericks (@dallasmavs) July 14, 2015
Williams, 31, hasn't been the player he once was—back when he would average around 20 points and 10 dimes per contest with the Jazz—but that doesn't mean he can't help a contender get over the hump. Without a doubt, he can still contribute to a Mavs team that desperately needs a reliable floor leader to facilitate their offense.
Also, his acquisition could somewhat help Mark Cuban and the Dallas fan base to move on from DeAndre Jordan, who rescinded his verbal commitment to eventually re-sign with the Los Angeles Clippers.
Williams can certainly give them something to cheer about in Dallas, especially if he can find a way to resurrect his vintage D-Will consistency, like a few months back when he had a memorable Game 4 performance against the Atlanta Hawks in the first round of the playoffs.
Dallas may yet prove to be a legitimate dark horse in the very wild Western Conference if Williams does perform beyond expectations and is able to mesh with a line up essentially highlighted by Nowitzki, Chandler Parsons and newly-signed Wesley Matthews.
In five seasons with the Nets, Williams averaged 16.4 points and 8.3 assists per contest that included three postseason appearances.
Benjamin Felix Santos' basketball career didn't work out pretty well so he decided to write about basketball instead.
Follow @biefsantos