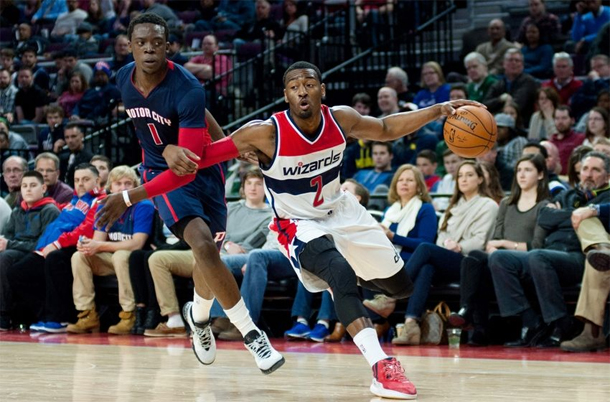 If there were to be a cardinal rule among professional athletes, you could argue that it's to never count another man's money. Well, John Wall is in severe violation of that unwritten rule.
Wall recently bemoaned the fact that he's making the same amount of money as Detroit's Reggie Jackson, who just signed a 5-year, $80 million deal last week. Wall signed for that amount a few years ago, as it was the maximum amount he was allowed to be given. Even though Wall signed that only a few years ago, the economic climate in the NBA has changed since then. The salary cap has risen, and will only get higher after this upcoming collective bargaining agreement. This causes mid-level players to be paid what stars were paid a few years ago.
It's the world we live in, so he needs to get used to it. I mean, Magic Johnson never signed an $80 million deal, but I don't think any confuses Wall with being a better PG than Magic. Same scenario, albeit exaggerated. Wall could've stated his point without actually naming a player.
"People talk about me getting $80 million, now you got people getting $85 million that haven't made the All-Star (Game) or anything like that," Wall said Tuesday while watching his summer league team compete vs. the Dallas Mavericks at Thomas & Mack Center. "I guess they came in at the right time. That new CBA kicked in and they're good now. Reggie Jackson gets five years, $80 million. I'm getting the same as Reggie Jackson."
H/T: CSN Washington