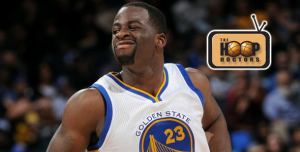 It's mid-July, so that must mean it's time for Gatorade's Athlete of the Year Program to take center stage. Each year, Gatorade honors the nation's top high-school scholar-athletes and it's an event The Hoop Doctors have had the pleasure of covering for a few years now.
Listen to THD's Kevin Burke chat with NBA Champion Draymond Green of the Golden State Warriors about his big win, which players he dislikes in the league, and the Gatorade event….
Please enable Javascript to watch this video
Celebrating its 30th year (established in 1985), the Gatorade Player of the Year program annually recognizes one winner in the District of Columbia and each of the 50 states that sanction high school football, girls volleyball, boys and girls cross country, boys and girls basketball, boys and girls soccer, baseball, softball, and boys and girls track & field. One National Player of the Year is awarded in each sport. In addition to athletic excellence, the award recognizes academic achievement and exemplary character on and off the field. It's truly a tremendous, one-of-a-kind program.
The annual award presentation goes down in Los Angeles and there's always a host of professional athletes one hand. Draymond Green happened to be in the building and also participated in the first annual "Gatorade Play it Forward Performance Clinic," which is an event geared towards community service and giving back by coaching area youth. We were able to get his take on Gatorade, the Finals, his contract extension and if there's anyone in the NBA that he just generally doesn't care for.