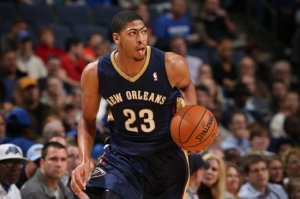 Despite being eliminated in the opening round of this year's playoffs, the Pelicans' confirmed to everybody in the league that they are the real deal and will definitely be back next season hungrier than ever.
Of course, their success last season wouldn't have been possible without their All-Star center Anthony Davis, who's simply been a beast since drafted with career numbers of 24.4 points and 10.2 rebounds per contest. His dominant play has made it clear that the New Orleans management's first priority in the off-season would be to secure their big man for the future.
According to reports they have successfully done so, as the Pelicans and Davis have agreed on a five-year, $145 million dollar extension, according to Adrian Wojnarowski of Yahoo! Sports:

New Orleans star Anthony Davis has agreed to a five-year, $145 million maximum contract extension, league source tells Yahoo Sports.

— Adrian Wojnarowski (@WojYahooNBA) July 1, 2015
And Davis himself even confirmed via Twitter:
NOLA, I am here to stay!  Just getting started… #6MoreYears #TakeFlight pic.twitter.com/Kni8WpikEA

— Anthony Davis (@AntDavis23) July 1, 2015
This was expected obviously.
Davis is arguably going to be the best player in the league very soon and possibly a future MVP. Now, the Pelicans' management next priority is to surround him with the players that could optimally compliment with him, as they strive delve deeper into the playoffs and eventually become title contenders.
Benjamin Felix Santos or a.k.a Bief's basketball career didn't work out pretty well so he decided to write about basketball instead. So far, there haven't been any regrets at all. I love this game. Follow @biefsantos