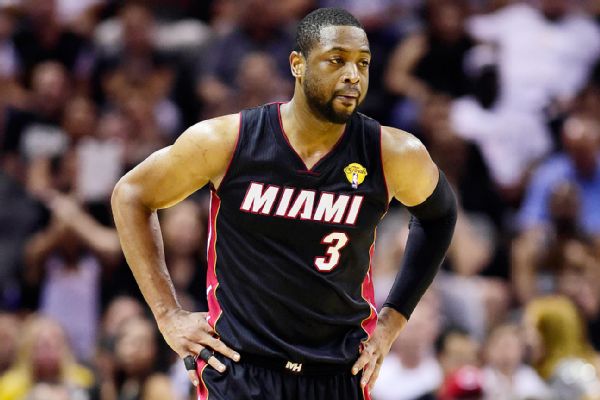 Dwyane Wade may join the rest of the NBA's free agents this summer.
You know, insofar as "free agent" means someone who will opt out of his current contract only to most definitely, without a shadow of a doubt, re-sign with his incumbent team.
The Miami Heat superstar signed a two-year deal last summer, with a player option for next season. It was widely assumed he would opt in, then explore free agency in 2016, on the heels of the first of two salary-cap explosions.
But according to the Miami Herald's Barry Jackson, Wade may call an audible:
Because Dwyane Wade said last year that he's eager to see how much he can command next summer, when the salary cap rises considerably, everyone has expected he would not opt out of a contract that would pay him $16.1 million next season. Opting in seems to make the most sense.

But it's curious that Wade was non-committal after the season ended, and his agent this week declined to say if he will opt in.

If he surprisingly opted out, he would figure to re-sign here on a multiyear deal, and the Heat thus wouldn't have cap space (even if Luol Deng also opted out), assuming Goran Dragic stays. (Unless Miami dumps additional salary such as Josh McRoberts or Mario Chalmers.)
Pat Riley and Wade may have worked out something where the latter opts out and re-signs for less than next year's salary over a longer period of time, thus affording the Heat more flexibility. More likely than not, Wade is probably just setting himself up for 2016.
Unless he's trying to give Miami a better grasp on their finances beyond next season and planning to ink a multiyear deal that would, in theory, pay him less than he could earn annually starting next summer, this is all about safeguarding himself against injury. The idea here is he opts out and signs another two-year deal with a player option for 2016-17. This way he can still capitalize on the cap boon while also ensuring he has an extra year of security under his belt should he suffer a serious injury.
That's a wise decision on his part considering the past. Wade has missed at least 10 games in each of the last four seasons and 20 or more in each of the last two. Now 33, it makes sense for him to lock up some rainy day cash for 2016, when he will be 34, with his 35th birthday less than 250 days away.
Of course, that could just make him signing a multiyear deal this summer all the more likely. Wade may have been interested to see how much he would fetch at the age of 34 before, but it might be a harrowing proposition now. Who knows what the market will be for an aging and injury-prone shooting guard with a rocky outside touch.
Moral of the story: Wade has plenty of reasons to opt out this summer. Not one of them starts or ends with him leaving the Heat.