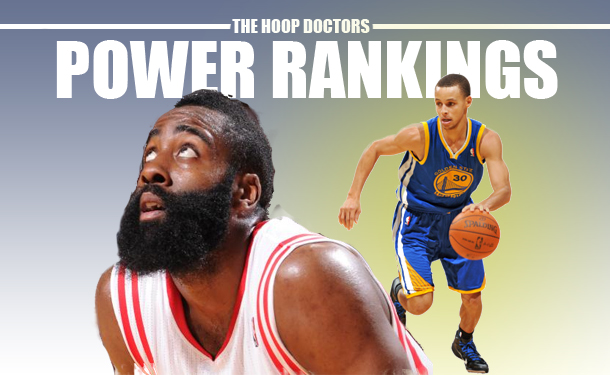 It's almost time for us to say goodbye to another year of NBA Power Rankings.
The NBA's regular season is winding down, which means we're nearing a point of farewell. Never fear, though, because that point isn't here just yet. We still have the playoff race and, equally important, the MVP chase—or, as it's now become, the vessel through which Stephen Curry and James Harden are proving to be superhuman.
Not that the various playoff pursuits aren't important. Only the Hawks, Cavaliers and Warriors are wholly locked into their positions. A bunch of teams have already clinched postseason berths, but most of the seeds are still up for grabs. Harden has the Rockets making a push to overthrow the Grizzlies; the Spurs are rounding into NBA Finals form; the Pelicans and Thunder are scrapping and clawing like hell; and the Heat, Nets, Celtics, Pacers and Hornets are all still trying to keep their playoff hopes alive.
Yes, it's a busy time in the NBA world. So let's take a moment or five to reflect on the madness that's unfolding.
To the power rankings hard-top convertible!
*Welcome back to The Hoop Doctors' PG-13 NBA Power Rankings, where almost anything goes. Language may sometimes not be suitable for those reading at work, in which case I recommend you don't read these aloud or you get a new job. Like most PG-13 movies, we'll permit one F-bomb per post. Those devoid of a sense of humor need not proceed.
***For a week by week list of all our NBA Power Rankings this season, please visit this page.
NBA Power Rankings
| | |
| --- | --- |
| 1 | |

Golden State Warriors

Stephen Curry has voodoo handles, and the Warriors are forever great. The end.

Last Week (1)

| | |
| --- | --- |
| 2 | |

Cleveland Cavaliers

The Cavs' defense has been sneaky-good since the All-Star break, allowing just 103.5 points per 100 possessions, according to Basketball Reference—the equivalent of a top-10 attack.

Last Week (2)

| | |
| --- | --- |
| 3 | |

Atlanta Hawks

People keep asking me whether the Hawks are legitimate championship contenders, to which I politely, yet passionately, point out that they have a stronghold on the East and play the same brand of basketball that won a title last year. So let's pump the brakes on all pretender talk, shall we?

Last Week (3)

| | |
| --- | --- |
| 4 | |

Houston Rockets

James Harden gives exactly zero shits that the Rockets really shouldn't be the West's second-best team.

Last Week (4)

| | |
| --- | --- |
| 5 | |

San Antonio Spurs

It's official: The Spurs are back, and subsequently, the rest of the league is on high alert.

Last Week (6)

| | |
| --- | --- |
| 6 | |

Los Angeles Clippers

Chris Paul has been Stephen Curry's whipping boy all year, but let's not forget he's also piloting the best offense for a second consecutive season and saving the Clippers' title hopes in the process.

Last Week (5)

| | |
| --- | --- |
| 7 | |

Memphis Grizzlies

Two months ago, the Grizzlies looked scary, like perhaps they could even give the Warriors a run for their money. Now they just look war-worn and, frankly, incapable of making it out of the second round.

Last Week (7)

| | |
| --- | --- |
| 8 | |

Toronto Raptors

Slowly, surely, the Raptors are returning to early-season form. Earning that three seed is important, since it's the difference between facing the Wizards or Bulls and the suddenly slipping Bucks.

Last Week (10)

| | |
| --- | --- |
| 9 | |

Dallas Mavericks

This team is either going to get swept in the first round or win the NBA title. That's how hot and cold they've been.

Last Week (9)

| | |
| --- | --- |
| 10 | |

Oklahoma City Thunder

Russell Westbrook's insane numbers are not enough to overshadow the obvious: The Thunder really don't belong in the playoffs.

Last Week (8)

| | |
| --- | --- |
| 11 | |

Chicago Bulls

Oh, hey, the Bulls are still here.

Last Week (11)

| | |
| --- | --- |
| 12 | |

New Orleans Pelicans

It's now or never for the Pelicans. They're within striking distance of the Thunder and can't look back, lest their playoff hopes implode. Again.

Last Week (14)

| | |
| --- | --- |
| 13 | |

Portland Trail Blazers

Like last year's Blazers, this year's Blazers are fading down the stretch. Difference is, they have an excuse this time around: INJURIES.

Last Week (12)

| | |
| --- | --- |
| 14 | |

Washington Wizards

Washington is the NBA playoff equivalent of Jahlil Okafor: One and done.

Last Week (16)

| | |
| --- | --- |
| 15 | |

Miami Heat

Yay! The Heat are finally kind-of-sort-of healthy.

*knocks on all the wood ever*

Last Week (15)

| | |
| --- | --- |
| 16 | |

Utah Jazz

Screw actual playoff teams. If the Jazz played in the Eastern Conference, they would be just a game back of a playoff spot. They're good. Get over it.

Last Week (18)

| | |
| --- | --- |
| 17 | |

Brooklyn Nets

Talk about your late-season surges. Brook Lopez has played like an MVP over the last 10 games or so and Deron Williams looks like a basketball player again. A playoff berth is totally possible.

Last Week (25)

| | |
| --- | --- |
| 18 | |

Boston Celtics

Boston really needs to make the playoffs, if only so the East can say it has two accidental postseason participants, the other being Milwaukee.

Last Week (17)

| | |
| --- | --- |
| 19 | |

Indiana Pacers

Paul George has yet to return, which feels smart for a team that needs to think big picture.

Last Week (22)

| | |
| --- | --- |
| 20 | |

Phoenix Suns

No squad has been on more of a roller coaster ride this side of the trade deadline than the Suns.

Last Week (13)

| | |
| --- | --- |
| 21 | |

Charlotte Hornets

Somehow the Hornets have a lower effective field-goal percentage than the Sixers. That's scary and pathetic and totally not okay.

Last Week (19)

| | |
| --- | --- |
| 22 | |

Milwaukee Bucks

Credit the Bucks for inevitably securing a playoff berth, but they have not even been close to good since acquiring Michael Carter-Williams.

Last Week (20)

| | |
| --- | --- |
| 23 | |

Denver Nuggets

Is Mike D'Antoni in town yet?

Last Week (21)

| | |
| --- | --- |
| 24 | |

Detroit Pistons

Think of where the Pistons would be if Brandon Jennings never went down…

Last Week (23)

| | |
| --- | --- |
| 25 | |

Sacramento Kings

DeMarcus Cousins will see the Kings' thought of benching him for the rest of the season and raise them one triple-double.

Last Week (24)

| | |
| --- | --- |
| 26 | |

Orlando Magic

Holy hell the Magic are bad. Their offense is a mess, and while we talk about their defense like it's showing signs of promise, it really isn't. Not anymore.

Last Week (26)

| | |
| --- | --- |
| 27 | |

Los Angeles Lakers

Jordan Clarkson is too good for the Lakers' own good.

Last Week (28)

| | |
| --- | --- |
| 28 | |

Philadelphia 76ers

Adjusted offensive ratings (ORtng+) allow us to compare team performances throughout history. And when calculating the Sixers' ORtng+, you find that they're on pace to have the second-worst offense in NBA history. Nicely done, Mr. Hinkie.

Last Week (27)

| | |
| --- | --- |
| 29 | |

Minnesota Timberwolves

Ricky Rubio is on the sidelines. Again. If this is a tanking ploy, fine. If not, uh-oh.

Last Week (29)

| | |
| --- | --- |
| 30 | |

New York Knicks

Don't worry guys, Phil Jackson has a plan. It entails crossing your fingers during the draft and free agency while smoking enough peyote to forget your name.

Last Week (30)