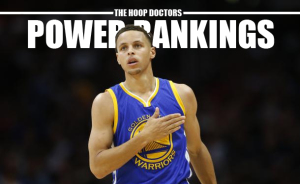 Pat yourself on the back. Do the self-five. Pound your chest. Hell, play some pocket billiards if you're into that sort of thing. You deserve it.
Because the 2014-15 NBA regular season is over.
And you made it.
Now it's off to the playoffs, which begin Saturday. And thank heavens for the brief respite in between Game 82 and the postseason's onset. The league's playoff picture was sheathed in butter-thick smog until the bitter end. Almost nothing was for certain until the season was over. It was equal parts brutal and freaking awesome.
Ahead of your reward for enduring such madness, we power rank for the last time this season. Fear not, we'll be back. Maybe. If you ask nicely.
As always, remember that playoff seeds aren't weighted here. There is a heavy recency bias, but we also take into account a team's entire body of work. Records are basically, but not quite, discarded in the trash. We care only about ranking the NBA's best teams, as of right now, from top to bottom.
For one last time.
To the power rankings Boeing 777!
*Welcome back to The Hoop Doctors' PG-13 NBA Power Rankings, where almost anything goes. Language may sometimes not be suitable for those reading at work, in which case I recommend you don't read these aloud or you get a new job. Like most PG-13 movies, we'll permit one F-bomb per post. Those devoid of a sense of humor need not proceed.
***For a week by week list of all our NBA Power Rankings this season, please visit this page.
NBA Power Rankings
| | |
| --- | --- |
| 1 | |

Golden State Warriors

Statistically speaking, if the Warriors don't make the NBA Finals, the world will end.

Last Week (1)

| | |
| --- | --- |
| 2 | |

Cleveland Cavaliers

At the risk of offending Hawks fans everywhere, the Cavaliers are the East's team to beat right now, and it's not even close.

Last Week (2)

| | |
| --- | --- |
| 3 | |

San Antonio Spurs

Sixth seed? Fuck it. The Spurs are still good. If there's one team that can take down the Warriors, it's these guys.

Last Week (3)

| | |
| --- | --- |
| 4 | |

Houston Rockets

James Harden actually carried an injury-prone and unimpressive supporting cast to a top-two playoff seed. Let that sink in. And then adjust your MVP ballots accordingly—provided, of course, those adjustments don't come at the expense of Stephen Curry.

Last Week (4)

| | |
| --- | --- |
| 5 | |

Los Angeles Clippers

Psst, guess what? The Clippers are really, really, really good again.

Last Week (6)

| | |
| --- | --- |
| 6 | |

Atlanta Hawks

Don't overreact to this drop. The Hawks just haven't played a game that actually matters in months.

Last Week (5)

| | |
| --- | --- |
| 7 | |

Memphis Grizzlies

Feeling good about the Grizzlies making it out of the first round (Blazers), but not so good about them going any further.

Last Week (7)

| | |
| --- | --- |
| 8 | |

Chicago Bulls

The Bulls are kind-of-sort-of healthy, which means they maybe-just-might-possibly have a shot at making the Eastern Conference Finals.

Last Week (8)

| | |
| --- | --- |
| 9 | |

New Orleans Pelicans

Playoff Anthony Davis is upon us. He's liable to be just as inhuman as regular-season Anthony Davis.

Last Week (9)

| | |
| --- | --- |
| 10 | |

Toronto Raptors

Weird: The Raptors' second-most-used lineup is Tyler Hansbrough, James Johnson, Louis Williams, Greivis Vasquez and Patrick Patterson, per NBA.com.

WAIT, WHAT????????????

Last Week (12)

| | |
| --- | --- |
| 11 | |

Dallas Mavericks

No, the Mavericks haven't earned our faith. Yes, a first-round date with the Rockets is, under the circumstances, almost ideal. Better them than the Spurs.

Last Week (10)

| | |
| --- | --- |
| 12 | |

Washington Wizards

Rasual Butler is Washington's MVP of the second unit. So, yeah…

Last Week (11)

| | |
| --- | --- |
| 13 | |

Portland Trail Blazers

Shit is getting real bad real quick in Portland. After one season of good health, the injury gods are smiting the Blazers six ways toward a first-round exit.

Last Week (13)

| | |
| --- | --- |
| 14 | |

Oklahoma City Thunder

Chin up, Oklahoma City. Your team's title window will reopen next season. As for the one after that, well, let's talk following KD's foray into free agency.

Last Week (14)

| | |
| --- | --- |
| 15 | |

Boston Celtics

Congrats, Boston. Y'all accidentally nabbed a playoff berth. Best of luck in your four-game series with the Cavs.

Last Week (17)

| | |
| --- | --- |
| 16 | |

Utah Jazz

Compelled to reiterate what I wrote last week: 'Tis a shame the Utah Jazz aren't the Rhode Island Jazz. Because then they'd be in the East, preparing for a playoff berth.

Last Week (16)

| | |
| --- | --- |
| 17 | |

Indiana Pacers

Paul George hit the floor and was carried off in Indy's loss to Memphis. It was not cool. Also, the Pacers have some cap-finagling to do this offseason.

Last Week (18)

| | |
| --- | --- |
| 18 | |

Milwaukee Bucks

Poor Bucks. They were fated for a first-round exodus no matter what, but against the Bulls, they won't play a single home game.

Last Week (21)

| | |
| --- | --- |
| 19 | |

Brooklyn Nets

Brooklyn had us fooled for a little bit, playing like an actual basketball team and stuff. The Hawks should take care of that.

Last Week (15)

| | |
| --- | --- |
| 20 | |

Miami Heat

Pat Riley better grab his wand ahead of the offseason. He has some magic to work

Last Week (19)

| | |
| --- | --- |
| 21 | |

Detroit Pistons

Apparently the Pistons think Greg Monroe is a max-contract guy. And apparently the Knicks are right there with them. Thus, we can conclude that New York's and Detroit's front offices shouldn't be trusted with cap space.

Last Week (22)

| | |
| --- | --- |
| 22 | |

Phoenix Suns

Someone explain to me which direction the Suns are traveling in. Please? Anyone?

Last Week (20)

| | |
| --- | --- |
| 23 | |

Denver Nuggets

Torn between the Nuggets keeping Melvin Hunt and hiring Mike D'Antoni. Ideally, they hire MDA and Hunt stays on as an assistant.

Last Week (24)

| | |
| --- | --- |
| 24 | |

Sacramento Kings

#FreeDeMarcusCousins

Last Week (25)

| | |
| --- | --- |
| 25 | |

Charlotte Hornets

Yeah, this team is awful. Probably shouldn't have invested in Kemba Walker this past fall and instead blown their offensive crapfest to smithereens. Michael Kidd-Gilchrist looks like the lone keeper.

Last Week (23)

| | |
| --- | --- |
| 26 | |

Orlando Magic

In the event Elfrid Payton returns for his sophomore campaign with a jump shot, Orlando's offense will finally be fun to watch.

Last Week (26)

| | |
| --- | --- |
| 27 | |

Los Angeles Lakers

T minus two and a half months until the Lakers foolishly offer Rajon Rondo a lucrative contract.

Last Week (27)

| | |
| --- | --- |
| 28 | |

Philadelphia 76ers

Should the Sixers fail to draft or acquire another point guard, they totally have to sign Jeremy Lin, right?

Last Week (28)

| | |
| --- | --- |
| 29 | |

New York Knicks

Moral of the story: The Knicks cannot even tank properly.

Last Week (30)

| | |
| --- | --- |
| 30 | |

Minnesota Timberwolves

Karl Anthony-Towns better be in Minnesota (or New York) next season, otherwise I'm going to cry ALL the tears.

Last Week (29)