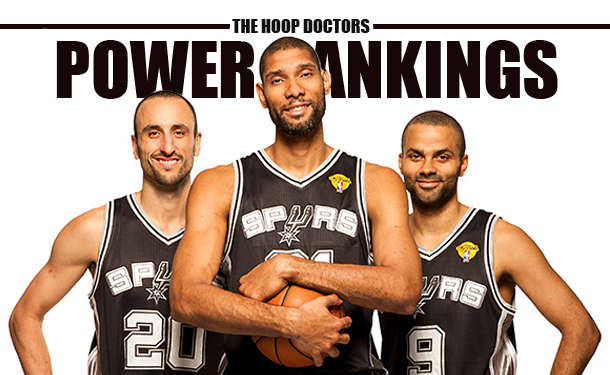 Oh, look, it's the Spurs. The time-biding, age-shirking, logic-looting, championship-chasing, demonstratively dynastic Spurs.
Remember when we were worried about them? Yeah, me neither. Yours truly was never worried about them. Yes, I'm patting my self on the back. A few bold blockheads thought they were done. Believed they were finally too old. Could see injuries and absences and big moments gone bad coming back to haunt them.
Not me, though. Even at the risk of being foolish, I, like so many others, refused to doubt. And now, those who remained on the bandwagon are being firmly rewarded. The Spurs have the NBA's second-best record since March 1 and are in play for the West's No. 2 seed. They're also working off consecutive drubbings of the league-lording Warriors and pesky Thunder. They're no longer on the fringes of the title conversation. They're not even merely part of it.
They're defining it.
Other stuff happened this past week, too. The Cavaliers are still rolling; the Spurs are godly; the Grizzlies are kind of sad; the Spurs are crazy incredible; the Hawks are slumping slightly; the Wizards aren't dead; the Spurs are Spurs-ing; the Rockets look magnificent as ever; the Pelicans are in position to make playoff Anthony Davis happen; the Spurs are dominating; and the Thunder are playing their way into the lottery.
Put on your Sunday best a few days early, because a more detailed explantation of the NBA's late-season chaos awaits.
To the power rankings horse-drawn buggy!
*Welcome back to The Hoop Doctors' PG-13 NBA Power Rankings, where almost anything goes. Language may sometimes not be suitable for those reading at work, in which case I recommend you don't read these aloud or you get a new job. Like most PG-13 movies, we'll permit one F-bomb per post. Those devoid of a sense of humor need not proceed.
***For a week by week list of all our NBA Power Rankings this season, please visit this page.
NBA Power Rankings
| | |
| --- | --- |
| 1 | |

Golden State Warriors

Yeah, the Warriors are still really, really, ridiculously good.

Last Week (1)

| | |
| --- | --- |
| 2 | |

Cleveland Cavaliers

Three of the Cavs' top-five net ratings belong to players they acquired midseason, per NBA.com: Iman Shumpert, J.R. Smith and Timofey Mozgov.

Last Week (2)

| | |
| --- | --- |
| 3 | |

San Antonio Spurs

Kawhi Leonard has a higher net rating (plus-11.7) than Tim Duncan and Tony Parker. Combined (plus-11.3).

Last Week (5)

| | |
| --- | --- |
| 4 | |

Houston Rockets

Even though the Rockets are losing PER battles at SF, PF and C, per 82games.com, they're the West's second-best team. In other words: #JamesHardenForMVP

Last Week (4)

| | |
| --- | --- |
| 5 | |

Atlanta Hawks

Fear not, panicking Patricks. The Hawks aren't totally sucking. They just don't care.

Last Week (3)

| | |
| --- | --- |
| 6 | |

Los Angeles Clippers

Clippers fans rejoice. So long as you face the Blazers in Round 1, you're going to reach Round 2.

Last Week (6)

| | |
| --- | --- |
| 7 | |

Memphis Grizzlies

There's a chance, however slim, that the Grizzlies drop to sixth in the West. Wow.

Last Week (7)

| | |
| --- | --- |
| 8 | |

Chicago Bulls

Top-three Eastern Conference record despite the fact Derrick Rose is nowhere to be found, Jimmy Butler has missed time and Joakim Noah is a fraction of typical Joakim Noah. But yeah, go ahead, fire Tom Thibodeau.

Last Week (11)

| | |
| --- | --- |
| 9 | |

New Orleans Pelicans

PLAYOFF ANTHONY DAVIS MIGHT HAPPEN, YOU GUYS.

Last Week (9)

| | |
| --- | --- |
| 10 | |

Dallas Mavericks

Locked into the West's No. 7 seed, the Mavericks have gone from facing the Grizzlies to the Rockets to quite possibly facing the Spurs. Talk about your serial tough breaks.

Last Week (9)

| | |
| --- | --- |
| 11 | |

Washington Wizards

Oh, look, there's life in Washington.

Last Week (14)

| | |
| --- | --- |
| 12 | |

Toronto Raptors

So, is Kyle Lowry done for the season or…

Last Week (8)

| | |
| --- | --- |
| 13 | |

Portland Trail Blazers

If not for the Thunder's injury party, the Blazers would probably be the West's No. 7 or No. 8 seed. Think about that.

Last Week (13)

| | |
| --- | --- |
| 14 | |

Oklahoma City Thunder

Russell Westbrook's MVP case is falling apart at the seams—assuming, of course, he ever had one. Which, really, he didn't.

Last Week (10)

| | |
| --- | --- |
| 15 | |

Brooklyn Nets

Brook Lopez is playing like a superstar, Thaddeus Young is just super fly and Deron Williams has a pulse. Now, if only the Nets could avoid Cleveland in the first round of the playoffs, life would really be good in Brooklyn.

Last Week (17)

| | |
| --- | --- |
| 16 | |

Utah Jazz

'Tis a shame the Utah Jazz aren't the Rhode Island Jazz. Because then they'd be in the East, preparing for a playoff berth.

Last Week (16)

| | |
| --- | --- |
| 17 | |

Boston Celtics

Said this before and will say it again: The Celtics are one DeAndre Jordan away from doing championship(ish) things.

Last Week (18)

| | |
| --- | --- |
| 18 | |

Indiana Pacers

Almost find myself cheering for the Pacers to nab the East's No. 8 slot, just to see if they're capable of fucking up Atlanta's world. But then I realize that would come at the expense of Boston's accidental playoff berth, which just isn't cool.

Last Week (19)

| | |
| --- | --- |
| 19 | |

Miami Heat

Really have to wonder where the Heat would be with Chris Bosh. Probably not the (pick-less) lottery, I imagine.

Last Week (15)

| | |
| --- | --- |
| 20 | |

Phoenix Suns

Weekly reminder that the Suns gave up the Lakers' top-five protected pick in the trade for Brandon Knight.

Last Week (20)

| | |
| --- | --- |
| 21 | |

Milwaukee Bucks

Look, the Bucks have sucked this side of the trade deadline. But kudos to them for prioritizing the future over a potential first-round upset.

Last Week (22)

| | |
| --- | --- |
| 22 | |

Detroit Pistons

Admittedly haven't watched much of the Pistons lately. Hope Anthony Tolliver can forgive me. Anyhow, this team really needs an elite wing defender and a household-named stretch 4.

Last Week (24)

| | |
| --- | --- |
| 23 | |

Charlotte Hornets

New Hornets' motto for this season: Injuries suck.

Last Week (21)

| | |
| --- | --- |
| 24 | |

Denver Nuggets

Denver is one J.J. Hickson salary dump away from having some pretty amazing financial flexibility this summer.

Last Week (23)

| | |
| --- | --- |
| 25 | |

Sacramento Kings

Irrelevant now, but important: The Kings are outscoring opponents by 11.9 points per 100 possessions when DeMarcus Cousins, Rudy Gay, Ben McLemore and Darren Collison share the floor, per NBA.com—a net rating better than that of the Warriors. Here, then, is to next season's Kings team.

Last Week (24)

| | |
| --- | --- |
| 26 | |

Orlando Magic

Few franchises have more riding on the upcoming offseason than the Magic. Not only do they need a coach, they need an offense.

Last Week (26)

| | |
| --- | --- |
| 27 | |

Los Angeles Lakers

Hard to tell who Nick Young has more beef with these days: Byron Scott or man-masticating sea creatures.

Last Week (27)

| | |
| --- | --- |
| 28 | |

Philadelphia 76ers

Jeremy Lin seems like a future 76er.

Last Week (28)

| | |
| --- | --- |
| 29 | |

Minnesota Timberwolves

Since entering the league, Ricky Rubio has appeared in fewer games than Joel Anthony. Let's talk about this.

Last Week (29)

| | |
| --- | --- |
| 30 | |

New York Knicks

Carmelo Anthony is helping the Knicks build a free-agency wish list. That is all.

Last Week (30)