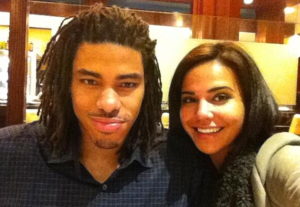 Last night at 1 OAK nightclub in Manhattan, Indiana Pacers forward Chris Copeland was stabbed in the stomach and two players from the Atlanta Hawks, Thabo Sefaloshoa and Pero Antic were arrested and charged with trying to prevent police from setting up a crime scene. Sounds like an eventful night.
A woman who was with Copeland and later described by police sources as his wife, Katrine Saltara, was slashed amid the fracas, which happened shortly before 4 a.m., as the popular club on West 17th St. was preparing to close. An argument erupted as Copeland and the suspect were leaving, the sources said.

The man who was arrested, Shezoy Bleary, 22, pulled out a knife and stabbed Copeland, 31, and slashed Saltara, 28, in the arm and leg, the sources said. A second woman, Catherine Somani, 53, who was with Bleary, was slashed in the abdomen, the sources said. One source said investigators believe she was slashed by accident.
H/T: NY Times