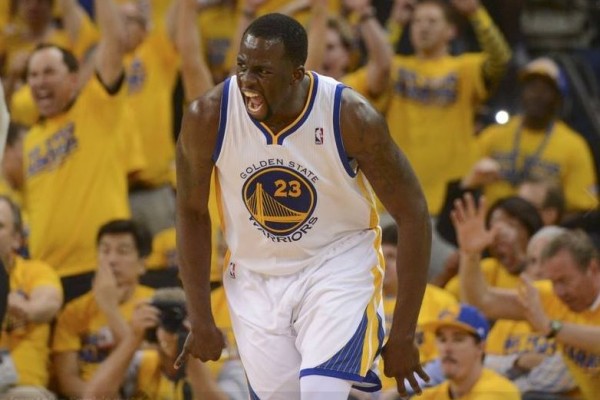 Draymond Green's mom is officially the coolest.
Mothers, fathers and parental figures in general pass on a lot of wisdom over the years. Most teach kids right from wrong. They show you how to tie your shoes, fold your laundry, save money and be responsible. They help guide you through at least the first 25 percent of your life, financially or emotionally or both.
Some parents are different, though.
In a good way.
In a they-teach-you-how-to-trash-talk way.
Which brings us back to Green's mom, who is the mastermind behind his trash-talking skills, per Yahoo Sports' Marc J. Spears:
Golden State Warriors forward Draymond Green searched through his contacts on his cell phone long after a 97-87 Game 2 win against the New Orleans Pelicans on Monday night until he found "Mama." On Twitter, Mary Babers-Green is known as @babers_mary, and she has a growing number of basketball fans and journalists who follow her and can't wait to hear what she has to say next.

Green is a Defensive Player of the Year candidate and perhaps the best trash-talker in the league. Judging by reading the tweets of @babers-mary, it isn't hard to tell where he got his skills from.

"I only have to be mindful and respectful of my son and not be belligerent," Babers-Green told Yahoo Sports in a phone interview early Tuesday morning in Saginaw, Mich. "But I am staying in the guideline of the rules. His rules.

"I myself have no rules. I myself will [say something]. But I have to respect him."
Like all parents, Mary Babers-Green is never done teaching. She frequently talks trash on Twitter during games, generating a mixed bag of reactions from tweeps all over, from amused to annoyed to straight up irate.
Some of the tweets and retweets—which you can check out here—can get pretty risqué, but she's quick to maintain it's all in good fun:
Here we go-molehills become mountains and ppl making something out of nothing..please know I mean ZERO harm to any group of ppl!

— Mary Babers-Green (@babers_mary) April 21, 2015
Draymond himself credits his mom with shaping his trash-talking chops:
"Now you've seen what I've grown up with my entire life," Green said. "Everybody wonders why I talk junk. I was doomed from the day I walked into her household. She's great. That's where I get my competitive nature from."
That competitive nature Mary passed down is working wonders for her son. Not only did he completely shut down the alien that is Anthony Davis in the fourth quarter of the Golden Warriors' 97-87 Game 2 victory over the New Orleans Pelicans on Monday, but he's speeding toward restricted free agency and the max contract it basically promises.
As one of the few players who can defend all five positions, Green is a commodity. His three-point stroke is good enough and will probably only get better, he can work inside the post, he passes well from anywhere on the floor, and his defensive tenacity and engagement are second to no one.
He's the one that allows the Warriors to play super small, to run lineups with five players who can all shoot the long ball. Without him and his ability to body up against opposing 5s—yes, centers—head coach Steve Kerr wouldn't be able to concoct myriad matchup nightmares on the regular.
No matter how important you think Green is to the Warriors' success, think again. He's more important than that. Times a jillion. And the fire that fuels his soaring importance was apparently started off the court, at home, by his mother.