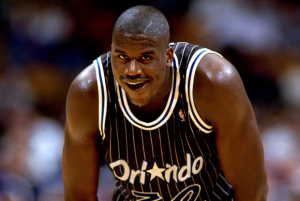 In the minds of most hoop heads, Shaquille O'Neal is most closely connected with the Lakers, but we cannot forget his time in Orlando. In his four years in central Florida, he put the Magic on the map (along with Penny Hardaway) and helped lead the team to a Finals appearance.
Despite leaving in 1996 for L.A., the Orlando Magic will still honor Shaq by inducting him into the team's Hall of Fame.
Because of his massive contributions to the franchise from 1992-96, O'Neal will be inducted into the Orlando Magic Hall of Fame at a private ceremony to be held on March 27 at the Amway Center. O'Neal, who turned 43 years old on March 6, will also be honored in front of the fans during the Magic's home game against the Detroit Pistons that night.

"The Orlando Magic are honored to recognize those who have made significant contributions to our history,'' Magic CEO Alex Martins said. "Shaq made a tremendous impact on our franchise during his time with us and we are thrilled to recognize him as our third inductee into the Magic Hall of Fame. He carries on a great legacy of those who made the greatest contribution to the rich history of the Orlando Magic.'' …

Inductees are selected based on their overall contributions both on and off the court, their years of service, their impact in the community and the general character of the individual.
H/T: nba.com/magic