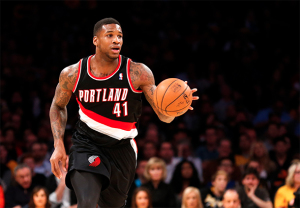 The Brooklyn Nets had Thomas Robinson all locked up. Contract agreement in place, they got their man. All they had to do was wait for him to clear waivers to make it official. Simple right? Not so much.
The Philadelphia 76ers are making moves. No one should forget that. They went from tanking, to improving, to trade deadline players, to stealing Thomas Robinson from the Nets grasp by picking him up today off waivers.
Not so fast though. Yahoo! Sports is reporting that the Sixers may bump into cap issues under the CBA and choose to release him. They claimed him to evaluate where he is at before making the decision to keep him or just 'catch and release'….
For the Nets to sign Robinson for a possible playoff appearance, the Sixers would have to waive him by Saturday.

The Sixers needed the sum of Robinson's remaining salary to honor the obligations of the collective bargaining agreement that dictate a team needs to reach within 90 percent of the NBA's salary floor before season's end – or pay out that shortfall amount equally among the rest of the players on the roster.

Robinson's $3,678,360 salary pushes the Sixers over the salary floor. Denver is no longer responsible for paying Robinson's salary. The Nuggets saved close to $900,000 on the balance of Robinson's salary because the Sixers claimed him.

The Sixers can use Robinson to reach the salary then waive him again. Nevertheless, their initial plan is to keep Robinson and take a look at him in the short-term, league sources told Yahoo Sports.
What do you think the Sixers should do? Does Robinson have a shot to still live up to the huge potential he showed in College?