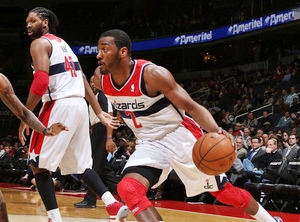 Need more proof that John Wall is (probably) an alien?
Here it comes.
Back in January, William Scott Davis of Business Insider wrote an article in which he discussed Wall's new dribble move. The description of said move went like this:
Now, Wall has a new move he's busting out: the "cut dribble."

Wall's "cut dribble" — as he calls it — is somewhere between a pass and a crossover. When Wall comes off a pick heading toward the basket, the opposing big man has to pick him up. Wall fakes a pass to his teammate rolling to the basket by using a ton of backspin, so that the ball leaves his hands, then spins back to him.

The defense is thrown off balance thinking Wall is passing it to his teammate. The momentary hesitation from the defender gives Wall an opportunity to drive or take an open shot. …

"It's just something I've worked on in practice. Me and Drew [Gooden] talked about it and [he] helped me. Just an opportunity to get guys off balance and try to make a play."

Wizards guard Garrett Temple told the Washington Post, "He freezes the big, and then you've got 'em at your mercy."

Drew Gooden added, "That big might react to that pass — AH! — and [then the ball] comes back to him and he's in rhythm with his right hand to shoot. Just playing around in practice we started doing it, and then he took it to the game."
About a month later, Damian Lillard talked about how difficult Wall's move is to both execute and defend. From Davis:
Speaking from All-Star Weekend in New York, Portland Trail Blazers point guard Damian Lillard was asked about John Wall's move, and admitted he couldn't do it.

"I came to the gym and tried it and realized how hard it was," he said. "I was like, I ain't even gonna mess with it."

Lillard also pointed out that Wall wasn't the first player to do it. He saw Cleveland's Kyrie Irving and Atlanta's Jeff Teague break it out before Wall popularized it this year.

We asked Teague about the move at All-Star Weekend, and he joked, "I did it first, I gotta tell John to quit taking my move."
The move itself is difficult to capture in real time. But there are some clips out there, which were aggregated by Davis.
Here's one to get you started:
And here's another one:
There's a lot of stuff going on here.
First, Wall's body needs to be moving in the right direction in order to sell it. He uses some combination of quasi-stutter steps and -head fakes to really engage defenses, in case his man isn't watching the ball like a hawk.
The other, more complicated part of this is generating the requisite backspin. The way in which Wall sort of flicks his wrist is incredible, and the end result is something of a magic trick.
Anyone who has ever played tennis knows how difficult it can be to create backspin when attempting a "slice." And that's with a racquet. This looks like all wrist, and the motion appears almost violent. It's easy to see why defenders would be confused. This isn't your average ball fake. The rock is actually leaving his hands, however slightly, and coming back.
For what it's worth, Jeff Teague says he was using this move first—though, who initially introduced it doesn't matter. This ball-handling trickery is rare and precise and fantastic and just plain crazy.