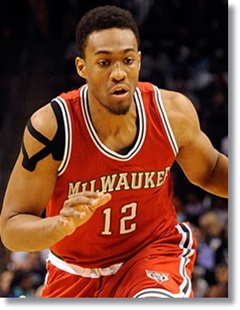 Most NBA fans outside of Milwaukee probably have soured on their feelings about future Hall of Fame player-turned-coach Jason Kidd, once he went from the hardwood to the sidelines prior to last season.
He made some questionable decisions as the Brooklyn Nets' head coach last season and was forced out of the organization after a failed coup to gain more control, as he landed with the rebuilding Bucks for the 2014-2015 season.
For Milwaukee, the move made sense since it breathed more life into a dormant organization which really hasn't been relevant since Glenn "Big Dog" Robinson and Ray Allen led the Bucks deep into the NBA Playoffs during the early 2000's.
Armed with a well respected resume as a player, he did help lead an old, but talented roster featuring All Stars Deron Williams, Joe Johnson, Kevin Garnett, and Paul Pierce into the postseason last year, despite critics constantly questioning his every coaching decision.
This season, Kidd has done a marvelous job with a young roster that includes #1 draft pick Jabari Parker and 2013 1st Rounder Giannis Antetokounmpo, helping the Bucks to a respectable 11-10 start, which would be the #6 seed in the East if the Playoffs began today.
But despite the success on the court, many scouts have once again begun to question Kidd's moves, this time concerning his role in the development, or rather lack of elite production, of 19 year old rookie Jabari Parker.
Prior to the Draft, and after a stellar freshman campaign at Duke, Parker was thought to be the most NBA ready prospect in the 2015 NBA Draft, and the odds-on favorite to win NBA Rookie of the Year honors.
But success has been slow for Parker, as despite currently leading all rookies in scoring(12.3 ppg) and ranking 2nd in rebounding(5.9 rebs) behind the 76ers Nerlens Noel, Parker was expected to provide much more offensively for the talent starved Bucks this season, potentially putting up 18-20 points per game, as the 2nd coming of Carmelo Anthony.
It's still early, but Kidd is only playing Parker an average of 29.6 minutes per contest, ranking 3rd behind Noel(30.8) and Brooklyn's Bojan Bogdanovic(30.6), among all rookies.
When asked about Jabari's limited minutes, head coach Jason Kidd responded, "We are deep and I'm trying to keep – not on purpose, but in a sense – minutes down because it's a long season," Kidd said. "For Jabari, he's never seen 82 games." …
But some NBA scouts apparently disagree as per SheridanHoops.com….
"Kidd's hurting Jabari by not giving him enough playing time," an Eastern Conference scout told SheridanHoops. "He's 19 years old. He should be playing at least 35 minutes a game. Instead, he's playing 29. That sounds like not a big deal, but seven or eight minutes per game adds up. It's a lot of experience."

"In this day and age you play him," an Eastern Conference executive told SheridanHoops. "The whole resting him because he's so young, let him get that 'I want to play every night and not want to come out' mentality."
Please enable Javascript to watch this video
Allen Moll has been a lifelong NBA and NCAA College Basketball fan who watches and studies games religiously, and coaches youth basketball in his native Lehigh Valley region of Pennsylvania. Allen has also provided content to Bleacherreport.com, Upperdeckblog.com, Cleveland.com, CSN Philly.com, Buckets Magazine, in addition to being a tenured NBA and NCAA columnist for TheHoopDoctors.com.