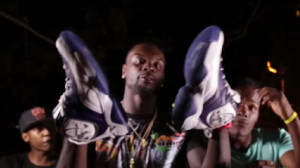 Rappers want to be ballers and basketball players want to spit raps. With the two subcultures so closely intertwined it isn't unusual to see crossover with stars in each lane.
If you've seen the Lance Stephenson music video to the three verses he rapped over the overwhelmingly popular Bobby Shmurda 'Hot N****' track then you notice Stephenson frequently on-camera holding a pair of sneakers. The pair he is holding is the AND1 Marbury and hasn't been in stores since its original release.
This looks like a new AND1 Marbury colorway since the OG pairs only came in a black/white and mostly white colorblockings. With purple being the only other dominate color to the white on the upper, I wouldn't be surprised to see Lance wear these during a Charlotte Hornets game as we get closer to the release.
Marketing is at its best when authentic as proved by the AND1 Marbury making an appearance in the video to all but confirm that a Retro release of this sneaker is in the works. The video was shot all around Coney Island, Brooklyn so it was fitting that Mr. Born Ready gave some camera time to fellow BK native & former AND1 endorsee Stephon Marbury.
The three verses Lance spit over the Bobby Shmurda track are very decent; not only way better than what most will expect, but I will go as far as to say that off the strength of this song Stephenson put himself atop the list of NBA players who've recorded their rhymes.