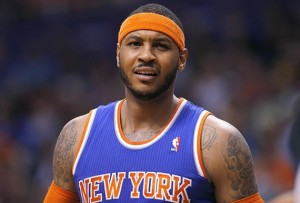 New York Knicks forward Carmelo Anthony has been playing through a sore left knee throughout almost all their games this season. He's been enduring this pain since their 95-90 win over the Cleveland Cavaliers on Oct. 30.
But last Tuesday night, in their 117-113 loss to the Milwaukee Bucks, things got a little worse as he aggravated the knee once again, according to the Associated Press.
Anthony returned to the locker room for a couple of minutes in the second quarter to get his left knee retaped. Anthony said he aggravated the knee issue after hitting the floor while scrambling for a loose ball….

"It's been sore since maybe the Cleveland game," Anthony said. "I've had some tests. I really don't know exactly what's going on with it — I mean, I know what's going on with it. But like I said, for me it's just a matter of just not kind of thinking about and playing through it."
But despite the sore knee, Anthony still managed to put up 26 points in their loss to the Bucks.
We all know the Knicks are still struggling to adjust to the new system of the triangle offense as they've only managed to win 3 out of there 12 games so far this season. Then with their all-star forward 'limited' by this injury—don't be surprised if they continue their losing ways for the first half of the season.
The Knicks (3-9) right now are almost at bottom of the eastern conference, next to the winless Philadelphia Sixers (0-10). It's still early in the season, but if the Knicks don't pull themselves together soon —it might be too late for them to recover for a late season playoff push.
Benjamin Felix Santos is currently a senior college student from Manila, PH. An aspiring NBA writer, who bleeds the purple and gold. His love and passion for the game will never die.
Follow @biefsantos