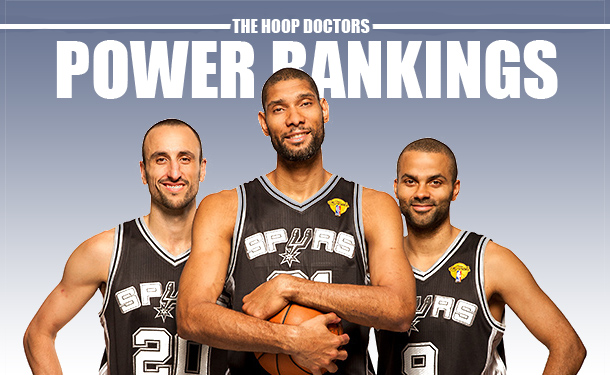 Oh my god, oh my god, oh my god, oh my god, oh my god.
The NBA is back. Like, really back. Not summer-league back. Not FIBA World Cup back. Not training camp back. Not preseason back.
Regular-season back.
The Hoop Doctors' totally awesome, not-at-all restrained power rankings back.
That's right. After a months-long hiatus—during which time yours truly made exactly zero trips to Peru and Serbia combined—we're back, refined and tasteless as ever. So consider this your chance to get reacquainted with us, and what we do, and how we do it, and what happens after we do it.
This edition marks a fresh start. No arrow indicators (I know, I'm pissed to), no reference to last week's ranking in parenthesis. Fear not, though, because they'll be back next week.
Know what's back now?
The NBA.
And us.
Let's hop and stroll and run and waltz and sprint to it.
**Welcome back to The Hoop Doctors' PG-13 NBA Power Rankings, where almost anything goes. Language may sometimes not be suitable for those reading at work, in which case I recommend you don't read these aloud or you get a new job. Like most PG-13 movies, we'll permit one F-bomb per post. Those devoid of a sense of humor need not proceed.
***For a week by week list of all our NBA Power Rankings this season, please visit this page.
NBA Power Rankings
| | |
| --- | --- |
| 1 | |

San Antonio Spurs

Two straight Finals. One 'ship. Gregg Popovich. Tim Duncan. Tony Parker. Manu Ginobili. Ettore Messina. Kawhi Leonard. Becky Hammon. Boris Diaw. Boris Diaw's Segway. This just feels right.

Last Week (-)

| | |
| --- | --- |
| 2 | |

Cleveland Cavaliers

No, I'm not overreacting. This team has LeBron James, Kevin Love and Kyrie Irving. David Blatt is an offensive genius. Cleveland is going to break records and win games, and possibly a title. The end.

Last Week (-)

| | |
| --- | --- |
| 3 | |

Los Angeles Clippers

Their bench scares me. So, too, does Blake Griffin's new jumper…in a good way Plus, Chris Paul is still Chris Paul.

Last Week (-)

| | |
| --- | --- |
| 4 | |

Golden State Warriors

Last season I was all in on the Warriors. Now they have a coach that cares about offense and passing and using Stephen Curry as a spot-up shooter(!). Almost needless to say, they suck something awful*.

*Actually, they're awesome.

Last Week (-)

| | |
| --- | --- |
| 5 | |

Chicago Bulls

Derrick Rose is back, but predicting his health is a lot like trying to shove a square peg up your ass using only your mouth. Still, with the additions of Pau Gasol and some shooters, this team has championship-chasing potential.

Last Week (-)

| | |
| --- | --- |
| 6 | |

Dallas Mavericks

Preseason optimism is strong in Dallas. Perhaps this is ambitious, but if bringing back J.J. Barea doesn't guarantee a 70-win season, I don't know what will.

Last Week (-)

| | |
| --- | --- |
| 7 | |

Oklahoma City Thunder

*Cuts to footage of Russell Westbrook attempting 35 contested 21-footers in a single game.*

Last Week (-)

| | |
| --- | --- |
| 8 | |

Memphis Grizzlies

Forever underrated. And scary.

Last Week (-)

| | |
| --- | --- |
| 9 | |

Toronto Raptors

Stability will make this team a juggernaut—provided playing in a shit-stuffed division doesn't lure them into frequent states of inertia.

Last Week (-)

| | |
| --- | --- |
| 10 | |

Portland Trail Blazers

Five bucks says Portland's starting five doesn't play all 82 games this year. One zillion-trillion-gajillion bucks says their bench still blows.

Last Week (-)

| | |
| --- | --- |
| 11 | |

Houston Rockets

After a thorough search of the Interwebz, I'm pleased to see I'm not the only one doubting the Rockets' potential. They lost their No. 3 and 4 scorers in Chandler Parsons and Jeremy Lin. It's going to be an uphill climb.

Last Week (-)

| | |
| --- | --- |
| 12 | |

Charlotte Hornets

If this team, aside from Jannero Pargo, figures out how to shoot threes, watch the freak out.

Last Week (-)

| | |
| --- | --- |
| 13 | |

Phoenix Suns

Honest to god, entertained putting them in the top 10 because I have that much faith in their triple point guard lineups and offense in general.

Last Week (-)

| | |
| --- | --- |
| 14 | |

Washington Wizards

Bradley Beal's absence is going to hurt this team, barring an Otto Porter explosion.

Last Week (-)

| | |
| --- | --- |
| 15 | |

Atlanta Hawks

Mike Budenholzer's offense is so Spurs-y. The Hawks—dare I say it?—are going to be a fun team.

Last Week (-)

| | |
| --- | --- |
| 16 | |

New Orleans Pelicans

Anthony Davis is a galaxy-gobbling god. 'Nuff said.

Last Week (-)

| | |
| --- | --- |
| 17 | |

Miami Heat

Oh, how the mighty have fallen…on their asses. Seriously, though, Pat Riley and Co. have rebounded nicely from LeBron's departure. The Heat should contend for a playoff berth.

Last Week (-)

| | |
| --- | --- |
| 18 | |

Denver Nuggets

So. Much. Depth. Too much depth, even. Brian Shaw wants to play fast, and with so many players returning from injury, there's no guarantee the Nuggets are a playoff team.

Last Week (-)

| | |
| --- | --- |
| 19 | |

New York Knicks

Led by Phil Jackson, the Knicks, for now, are like a well-spoken politician: saying all the right shit, but things won't be pretty for a while.

Last Week (-)

| | |
| --- | --- |
| 20 | |

Brooklyn Nets

Yeah, I mean, Brook Lopez's feet and ankles are made of oatmeal and toothpaste. Can't rank the Nets any higher until he gets healthy and stays healthy, or until Lionel Hollins proves he's magical.

Last Week (-)

| | |
| --- | --- |
| 21 | |

Detroit Pistons

Stan Van Gundy should help this team—especially Andre Drummond. But he can't will floor spacing into existence.

Last Week (-)

| | |
| --- | --- |
| 22 | |

Minnesota Timberwolves

Probably overrating this group, but they have so much talent. If the rookies pan out, they could have a top-15 offense and defense.

Last Week (-)

| | |
| --- | --- |
| 23 | |

Los Angeles Lakers

With the offense Byron Scott wants the Lakers to run—No. Three. Pointers.—consider this a gift.

Last Week (-)

| | |
| --- | --- |
| 24 | |

Indiana Pacers

No Paul George. No Lance Stephenson. No George Hill. No David West (for now). Plenty of Roy Hibbert.

…

…

…

The Pacers are fucked.

Last Week (-)

| | |
| --- | --- |
| 25 | |

Utah Jazz

Believe in Trey Burke. And Quin Snyder's "I'm not above maiming puppies in front of you while your eyes are glued open" face.

Last Week (-)

| | |
| --- | --- |
| 26 | |

Sacramento Kings

File this under: This is what happens when you swap out Isaiah Thomas for Darren Collison and Ramon Sessions.

Last Week (-)

| | |
| --- | --- |
| 27 | |

Boston Celtics

Beantown's offense, even with a potentially healthy Rajon Rondo, isn't going to be pretty. Here's hoping Avery Bradley and Jared Sullinger average INFINITY three-point attempts per game.

Last Week (-)

| | |
| --- | --- |
| 28 | |

Milwaukee Bucks

Look, Giannis Antetokounmpo is fun to watch and all, but this team is still uncooked-chop-meat raw. That said, if Jason Kidd unleashes John Henson, the Bucks become immediate title favorites.

Last Week (-)

| | |
| --- | --- |
| 29 | |

Orlando Magic

It's not only that Victor Oladipo will miss some time; it's that the Magic are fielding another rookie (Elfrid Payton) at point guard. The offense isn't always going to be pretty.

*Ben Gordon flexes*

Last Week (-)

| | |
| --- | --- |
| 30 | |

Philadelphia 76ers

Sam Hinkie retroactively traded Julius Erving for a second-round pick and a defunct pendulum made from possum stool while you were reading this.

Last Week (-)