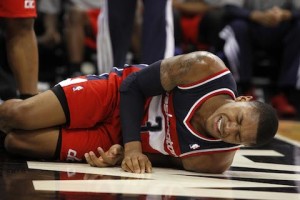 The Washington Wizards have been doing a lot of talking lately about the having the best backcourt in the NBA, but they may have to wait six weeks or so to put their money where their mouths are. Bradley Beal broke his non-shooting left wrist on Friday night and has undergone successful surgery. He may miss just the first month of the season.
The Washington Wizards, expected to compete for a top spot in the Eastern Conference this season, suffered a major blow to their hopes of a quick start with the loss of guard Bradley Beal, who could miss as much as six to eight weeks after breaking his left wrist, according to league sources. The Wizards expect Beal will undergo surgery in the next few days.

Beal suffered the injury during Friday night's exhibition game against the Charlotte Hornets, after Hornets swingman P.J. Hairston fouled him in the first quarter. The Wizards initially diagnosed the injury as a sprained wrist, but an examination Saturday detailed a small fracture in the wrist.
H/T: nba.com