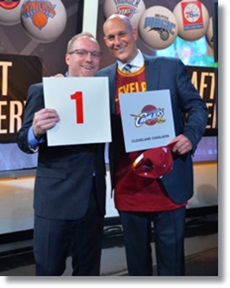 The much hyped 2014 NBA Draft is rapidly approaching.  In roughly 2 weeks, new NBA Commissioner Adam Silver will open the draft announcing that for the 2rd time in 3 seasons, the Cleveland Cavaliers are on the clock with the #1 overall selection.
Cleveland has been a tad unpredictable in past drafts, most recently choosing UNLV forward Anthony Bennett instead of Kentucky big man Nerlens Noel, with the 2013 top overall selection.
Prior to that, they made the wise decision, nabbing former Duke PG Kyrie Irving with the top pick in 2011, but made the surprising choice of taking inexperienced and undersized Tristan Thompson at #4.
Even more puzzling, the Cavs selected Syracuse 6th man Dion Waiters with the 4th pick, instead of Harrison Barnes or Terrence Ross.
So, with yet another top pick in their back pocket come June 26th, in what direction will the Cavaliers decide to go, to finally help surround franchise player Kyrie Irving with a talented supporting cast, and potentially make the postseason?
Hands down, the top 3 players on every Lottery players' board are Kansas center Joel Embiid, Duke forward Jabari Parker, and Kansas wing Andrew Wiggins, but which is the best fit going forward in Cleveland?
Joel Embiid, C, Kansas, Freshman
If healthy, the 7 foot Embiid should be the top overall selection but unfortunately he sustained a lower back fracture during his lone season at Kansas, forcing him to miss parts of the Big 12 and NCAA Tourneys.  "Jo-Jo" is the spitting image of Hakeem Olajuwon in both back story and skill set.
He has only just begun to scratch the surface of his potential considering he only began playing hoops as a 16 year old former volleyball standout in Africa.  He idolized Olajuwon, even studying tapes of the Hall of Famer, enabling Embiid to do some "Dream Shakes" of his own in limited action last season.
We now are well aware that the Cavs put a "red flag" on then injured Nerlens Noel in the 2013 Draft, even though the Kentucky center was the odds on favorite to go #1.  Would they do the same with Embiid?
http://www.youtube.com/watch?v=w-1eSav0nJI
Andrew Wiggins, F, Kansas, Freshman
Easily the player with the most potential going forward is the high flying Wiggins.  The super athletic small forward showed signs of just how great he could become, dropping 41 points in one game and grabbing 17 rebounds in another.
His father once played with Michael Jordan, his mother was an Olympic track star, and Wiggins has a reported 44 inch vertical leap.
Regarded as the best HS player since Lebron James, Wiggins was a tad inconsistent in his freshman season at Kansas, with many questioning whether he has the killer instinct to one day reach his lofty potential.
Jabari Parker, F, Duke, Freshman
A nice fallback option for either Milwaukee or Philadelphia at #2 or #3, Parker is considered the most NBA ready prospect in the Draft.
His offensive game reminds many of a young Carmelo Anthony, although he may not have as high of a ceiling as either Embiid or Wiggins.
There are concerns over whether Jabari will be a liability on defense but his offensive prowess far outweighs any defensive shortcomings.
Parker will instantly be the favorite for NBA Rookie of the Year and should be a solid contributor in the NBA for a decade.
Allen Moll has been a lifelong NBA and NCAA College Basketball fan who watches and studies games religiously, and coaches youth basketball in his native Lehigh Valley region of Pennsylvania. Allen has also provided content to Bleacherreport.com, Upperdeckblog.com, Cleveland.com, CSN Philly.com, Buckets Magazine, in addition to being a tenured NBA and NCAA columnist for TheHoopDoctors.com.