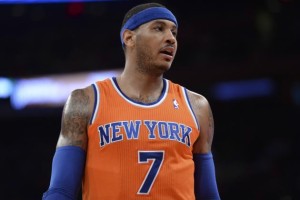 So far, the Derek Fisher hire in New York hasn't done anything with regard to Melo wanting to stay. Why should it? He's an unproven coach who was playing a few weeks ago. After meeting with Fisher and Phil Jackson, Melo will still opt out of his contract and become a free agent.
To be clear this doesn't necessarily mean he's leaving and he probably would've done the same regardless. It just means the Knicks now have their work cut out for them.
Anthony has until June 23 to notify the Knicks of his intention to opt out. Anthony and his agent, Leon Rose, reportedly met on Thursday with Jackson, new coach Derek Fisher and general manager Steve Mills. Assuming Anthony opts out, it doesn't necessarily mean that the All-Star forward won't re-sign with the Knicks, especially when the club can offer him the most money. But even Jackson recently admitted he is concerned about losing Anthony to free agency because it "only takes one" team. That one team could be the Heat.
H/T: NY Daily News