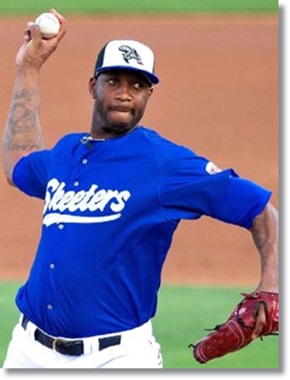 During his illustrious NBA career that included 7 All Star appearances, 2 scoring crowns, and 2 All NBA 1st Team nods, Tracy McGrady often gets forgotten about as one of the best players during the 2000's because injuries cut short what was a surefire Hall of Fame career.
Still only 34 years of age, T-Mac was undoubtedly a Top 5 NBA player in stints with the Magic and Rockets but was reduced to nothing more than a glorified role player with the Knicks, Pistons, Hawks, and Spurs, finally retiring from the Association following the 2013 season.
Back in February, it was rumored that McGrady was making a serious run at fulfilling his lifelong dream of becoming a professional baseball player, a dream which became a reality once he made the opening day roster with the Sugarland Skeeters of the Independent Atlantic League.
On Saturday evening, the former 6'8 small forward officially got to make his pro baseball debut with the Skeeters against the Somerset Patriots as a relief pitcher.
T-Mac did record 5 outs, truly an accomplishment since he hadn't played in an organized game since high school, but surrendered 2 runs on 2 hits in only 1 2/3 innings, taking the loss for the Skeeters.
He threw 35 pitches, 18 of which were strikes, including a home run, in a 5-3 loss.  McGrady played baseball until his senior year in high school when he transferred to a school without a baseball program.
With an ERA of 10.80, I'm not sure how long McGrady's stint will last in Sugarland, but his appearance definitely helped boost attendance and generated interest for the Skeeters not seen since Roger Clemens made a short lived comeback a few years ago.
I prefer to remember T-Mac for the posterizing dunks, 60 point scoring games, and the now legendary 13 points in 33 seconds on the hardwood……………
Please enable Javascript to watch this video
Please enable Javascript to watch this video
Allen Moll has been a lifelong NBA and NCAA College Basketball fan who watches and studies games religiously, and coaches youth basketball in his native Lehigh Valley region of Pennsylvania. Allen has also provided content to Bleacherreport.com, Upperdeckblog.com, Cleveland.com, CSN Philly.com, Buckets Magazine, in addition to being a tenured NBA and NCAA columnist for TheHoopDoctors.com.