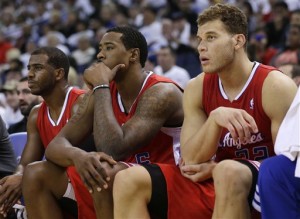 On the heels of another delusional tirade by banned Clippers owner Donald Sterling, the Clippers lost 104-98 to the Oklahoma City Thunder. How? How does the team with the best floor leader (Chris Paul), the best coach (Doc Rivers), and best frontcourt (Griffin/Jordan) lose a playoff series?
In the critical game 5, the Clippers blew a 7-point lead with 50 seconds remaining. They were up 101-88 with just over 4 minutes to go in the 4th quarter. The game was over, if not for the "fierce" and "fearless," says his Coach Scott Brooks, Russell Westbrook, and Mr. Reliable Kevin Durant.
Westbrook finished game 5 with 38. Durant chipped in 27, but it should have never been that close.
Was it the refs as Doc Rivers complained about that cost the Clippers a 3-2 series lead? No.
Yes, the calls were suspect, as they have been throughout these playoffs, something I will tackle after the playoffs are over.
Did Paul get hosed on a phantom call when Westbrook took that 3-point shot? Of course, but the Clippers had more turnovers (3) than field goals (1/6) in the last 4 minutes of the game. On the other side, the Thunder closed it out like pros: 5/9 from the field and 0 turnovers. Only one of those teams looks like they'll have a shot against the San Antonio Spurs, who had 1 turnover in 22 minutes of game time in their closeout win over the Portland Trailblazers.
The Clippers can't play like that if they expect to beat a 59-win team with the second best home record in the league (34-7) this season, especially when that team has been to the NBA Finals. They can't win if they play that badly. Blaming the refs, although they deserve ridicule, should be beneath a champion like Doc Rivers.
The NBA has considered, perhaps, dissolving the franchise if they cannot force Sterling to sell the team. President of Basketball Operations and Head Coach Doc Rivers has also quietly mulled over his own future with the franchise, if Sterling remains the owner. Players are talking about some sort of boycott, which would send a strong message to the league, fans, and sponsors.
Clearly, the Sterling fiasco still looms largely over the Clippers collective heads.
But, did the Clippers lose because of Sterling, or should we just chalk it up to another case of the Clippers Curse? The curse goes back to almost the beginning of the franchise.
1976: Bad trades and personnel moves. Owner Paul Snyder fired Hall of Fame Coach Dr. Jack Ramsey, who went on to lead the Portland Trailblazers to the title that up-coming season. In October, the Clippers gave away a young Moses Malone for a bucket of chicken, actually it was $232,000 and 2 first round picks, one of which they traded for George Johnson, who played 39 games, scoring 7.6 ppg for the team. With December came another blunder: the Clippers sold NBA champion and scoring champ Bob McAdoo (career 22.1 ppg) to the Knicks for John Gianelli (7.8 ppg).
1977: Another year of bad trades. First, the Clippers traded #3 pick and 5-time All-Star Marques Johnson for Tate Armstrong, who never played a single game for the Clippers, and Dutch center Swen Nater, who was a 2-time All-Star, but only played 78 games for the Clippers. Then, they Clippers shipped ROY and Hall of Fame forward Adrian Dantley (career 24.3 ppg) for Billy Knight. Later, they traded Johnson and 2 first round picks for Tiny Archibald, who never played for the Clippers due to an Achilles injury. The Clippers followed that up by swapping John Schumate and a 1st round pick for Marvin "Bad News" Barnes, whose glory days in the ABA were fully in the rearview mirror.
1978: More bad trades. They Clippers bundled all those bad trades (Archibald, Knight, and Barnes (and a pick that became Danny Ainge) for Kevin Kunnert, Sidney Wicks, Kermit Washington, and a draft pick. Another trade with Philly for World B. Free, and the Clips just narrowly missed acquiring the rights to Danny Ainge, Charles Barkley, and Larry Bird. What luck.
1979: Clippers sign free-agent San Diego native Bill Walton, who due to injury, only played 115 games for the Clips in 4 seasons. Only a month after the Walton deal, the Clippers struck again, swapping their #1 pick for lefty Joe "Jelly Bean" Bryant (father of Kobe). As it turns out, Joe was more like Michael Curry (no relation to Steph, Seth, or Dell). Oh, you never heard of him either? Join the club. And, that #1 pick, it was just 7-0, 245 lbs. Brad Daugherty, a 5-time All-Star, who became the starting center on a Cleveland Cavaliers team that made the 1992 Eastern Conference Finals only to be dispatched by Jordan's Bulls.
1980: Here we go with a litany of some of the worst draft choices in NBA history. What a legacy of futility. Clippers draft Michael Brooks with the 9th pick. They choose Brooks over players like Kurt Rambis, Jeff Ruland, Rick Mahorn, and Kiki Vandeweghe. Brooks was a productive small forward for 2 (maybe 4) seasons before blowing out his knee. His career lasted 6 years. The Clippers did end up signing Vandeweghe, but it wasn't until the end of his brilliant 13-year NBA career.
1981: The Clips are purchased by Donald Sterling for $12.5 million.
1982: The Clippers draft Terry Cummings over Dominique Wilkins. Talk about a team with a history of poor player analysis. After 2 great seasons in which Cummings almost averaged 20-10, the Clippers dealt Cummings, Ricky Pierce, and (future NBA champion with the Bulls) Craig Hodges for Junior Bridgeman. Bridgeman was good, but his career was on the downside; he played 2 seasons and averaged 11.7 ppg. Also included in the deal was the same Marques Johnson they gave away in 1977, and his career was almost over, too.
1983: In an incredible twist of fate (or curse), the Clippers traded Nater and their #4 pick (who just happened to be Byron Scott) to the Los Angeles Lakers for Norm Nixon, which would have been a steal for the Clips, except that Nixon blew out his knee and soon after ruptured his Achilles. In the same year, the Clippers moved 4-time All-Star Tom Chambers—yeah "one in Chamber like Chambers"—for James Donaldson, who almost played 3 seasons with the Clippers and Michael Cage.
1984: The Clippers draft Lancaster Gordon (#8) and Michael Cage (#14) over the likes of Kevin Willis, Otis Thorpe, John Stockton, and Jerome Kersey.
1985: The Clippers have the #3 pick in the draft. Swing and a miss. Benoit Benjamin? Yeah, they chose that dude over Xavier McDaniel, Chris Mullin, and Detlef Schrempf. But, now, knowing what we know about Sterling's feelings about White basketball players, like J.J. Reddick, it might help explain passing on future Hall of Famers and members of the 1992 "Dream Team" Stockton and Mullin.
1986: The curse strikes again as the Clippers #1 pick (from Boston) is Darnell Valentine, who was taken over Arvydas Sabonis, Mark Price, Nate McMillan, Kevin Duckworth, and Dennis Rodman (who went on to win 5 NBA championships).
1987: New GM Elgin Baylor selects Reggie Williams, Joe Wolf, and Kenny Norman over Scottie Pippen, Kevin Johnson, Horace Grant, Reggie Miller, Mark Jackson, and Reggie Lewis. All-Star appearances: Williams, Wolf, and Norman: 0. Pippen, Johnson, Grant, Miller, Jackson, and Lewis: 18
1988: Rookie sensation Danny Manning blows out his ACL after 26 games.
1989: Recently acquired Ron Harper blows his ACL after 28 games with the organization.
1995: The Clippers never get it right. They take Antonio McDyess over Jerry Stackhouse, Rasheed Wallace, and Kevin Garnett. Then, they turn around and trade the #2 pick for a packaged deal including the #15 pick (Brent Barry).
1996: Another Bryant-related blunder, as the Clippers take Lorenzen Wright over 5-time NBA champion Kobe Bryant, 2-time MVP Steve Nash, Peja Stojakovic, Derek Fisher, and Jermaine O'Neal. To be fair, 12 teams passed on Bryant, including another cursed NBA team, the Cavaliers who selected Vitaly Potapenko.
1997: Leading scorer and rebounder Lloyd Vaught goes down with season-ending back surgery.
1998: Here's a great one. The Clippers drafted the one and only Michael Olowakandi over scrubs like NBA champions and Finals MVPs Dirk Nowitzki and Paul Pierce.
2000: Sports Illustrated names the Clippers the "Worst Franchise in Sports History."
2004: The Clippers draft Shaun Livingston over Luol Deng, Andre Iguodala, Al Jefferson, Josh Smith, J.R. Smith, Tony Allen, and Kevin Martin. And, they followed that up by taking Lionel Chalmers with the 33rd pick, when they could have drafted Chris Duhon or Trevor Ariza.
2007-2008: Both Elton Brand and Shaun Livingston go down with horrific injuries, Brand the Achilles, and Livingston the knee.
2010: Rookie Blake Griffin misses his entire rookie season after injuring his kneecap in the final preseason game.
2014 Playoffs: In game 5 of the Western Conference Semi-Finals, the Clippers blew a 7-point lead with less than a minute to go, in a game that would have given them a 3-2 lead in the series. Then, the Clippers followed that up by giving up a 16-point lead in game 6 and lost the series.
For more on the Clippers curse and their epic blunders, see Bill Simmons "Open Letter to Blake Griffin."
The curse strikes again, but this time it was more Sterling's fault than simply bad luck, so with any luck the curse can finally be lifted off the Clippers and transferred to the billionaire slumlord.