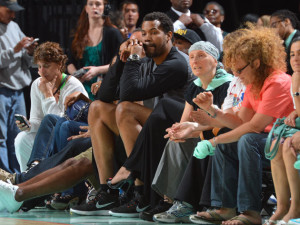 With the addition of Stan Van Gundy in Detroit comes the addition of a new staff as well. SVG has the power to hand pick his own assistants as he see fits. Unfortunately for Rasheed Wallace, he doesn't factor in to the plans.
In an official release from the team, Rasheed will not be retained as player development coach. Sheed definitely connects with today's players, so it will be interesting to see if he's able to land another coaching gig.
Detroit Pistons Head Coach and President of Basketball Operations Stan Van Gundy announced today that the team has named Brendan Malone, Bob Beyer and Charles Klask as assistant coaches and Adam Glessner as a team scout. Per team policy, terms of the contracts were not disclosed. …
The team also announced that assistant coach Henry Bibby, player development coaches Rasheed Wallace and Bernard Smith, advance scout Kamran Sufi and video coordinator Raman Sposato will not be retained.
H/T: NBA.com