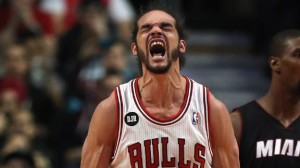 Joakim Noah is the type of player that you only stomach if he's on your team. That being said, every team needs a guy who brings to the table what he does. His motor never stops and he can get under the skin of an opponents.
Noah is expected be be named Defensive Player of the Year today. Some would argue that this should be his third award, considering the fact that the two previous winners were left off the all-defenive first team (Tyson Chandler and Marc Gasol).
The Bulls will make a major announcement at 4 p.m. ET on Monday and according to CSN Chicago, it will be to name Joakim Noah the NBA's Defensive Player of the Year.

Noah, who anchored the league's second-best defense in terms of defensive efficiency, has been the heart and soul of the Bulls this season after the team lost Derrick Rose to injury and traded Luol Deng to the Cavaliers.

The Bulls allowed just 97.8 points per 100 possessions, which is an insanely good number, and it's largely due to the fact that Noah was the backbone of it. Noah ranked No. 1 in Defensive Rating at 95.8 (estimated points allowed when he's on the floor) and Defensive Win Shares (an estimation of how many wins his defense contributed to) with 6.6.
H/T: CBS Sports