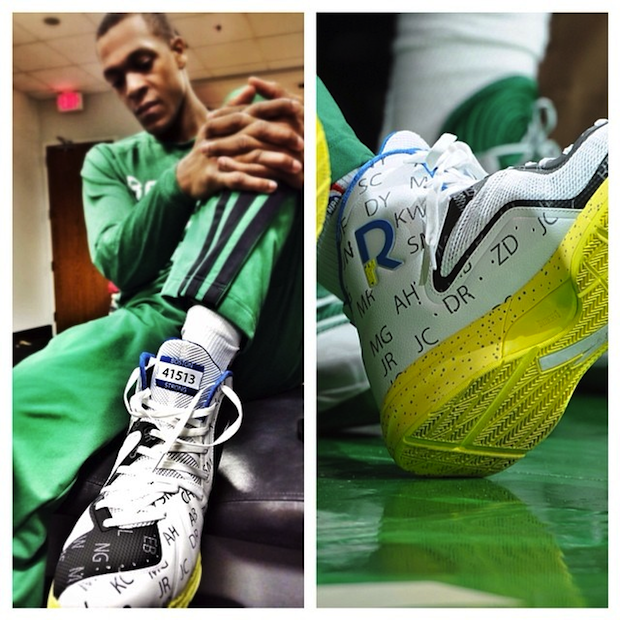 Rajon Rondo is seen here lacing up a pair of his ANTA Rondo 1 signature basketball sneaker in honor of the victims of 2013's bombing of the Boston Marathon.
What we see here is a white pair of the ANTA Rondo 1 that has the initials of those hurt in last year's bombing of the Boston Marathon written all over the upper with a yellow outsole with systematic blue dots on the midsole. For the synthetic overlay of the upper that connects to the toe, black is used with all overlapping initials printed in silver.
On the mesh tongue is a strip with the numbers 41513 in black showing reverence to the date the Boston Marathon was disrupted now over a year ago. The words 'Boston Strong' are written above and below the date.
After already in talks of having a breakout season next year, Rajon Rondo is back on the public radar but this time for his sneakers. Rondo's exit from Nike for a sneaker endorsement from Anta during this past off season has been well documented and the move fits perfectly with RR's seemly thirst to be a big fish in any pond regardless of the size. Being the face of a Chinese sneaker company brings advantages like a timely turnaround when it comes to drawing up special edition sneakers like this themed colorway of the ANTA Rondo 1 made in remembrance of the victims from the Boston Marathon bombing.