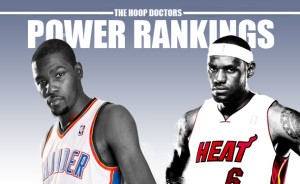 Folks, you made it. Congratulations.
The NBA regular season is over. It's done. Finished. Finito.
And good riddance.
Don't get me wrong, this season was crazy. Downright exciting. But it also sucked. It sucked so freaking hard. More than it's sucked in the past few years. Did it rival the 2011-12 lockout-truncated season? Shit, I don't know. Maybe. Probably not. But it still sucked.
Why did it suck? Everyone was injured. Fine, not everyone, but enough players to piss us off. Plenty of players we wanted to see play—Derrick Rose, Kobe Bryant, Steve Nash, Nerlens Noel, Jrue Holiday, Ryan Anderson, Russell Westbrook (kind of) etc.—didn't play much. That sucked.
Then there were the teams that were supposed to be good and sucked. Watching them sucked too. The New York Knicks spring to mind. So do the Cleveland Cavaliers. And Detroit Pistons, though you sort of knew they were going to suck. But they weren't supposed to suck so hard.
The Minnesota Timberwolves sort of sucked too. They played respectable ball on both ends for much of the season, but they were supposed to make the playoffs. Yet they didn't. That sucked. At least we have Gorgui Dieng. He hasn't sucked.
Pretty sure the Lakers weren't supposed to suck this bad either. Injuries crippled them. Badly. That sucked.
On the bright side, not everything sucked. Those damn Phoenix Suns didn't suck, but it did suck they didn't make the playoffs. The Western Conference also didn't suck. Most of the teams were awesome. Even some of the non-playoff teams. The Eastern Conference, however, sucked. Sucked, sucked, sucked.
Never mind, though. We soldier on. Playoff basketball is here. Clean slates rule the day. And we say goodbye.
This will be the last power rankings until next season. Maybe we'll throw in a few over the offseason when trades and big free-agency signings go down. For the most part, we're done. We'll see you next year.
But before you go, you might as well take a look at where every team stands as the regular season draws to a close, because, why the hell not?
**Welcome back to The Hoop Doctors' PG-13 NBA Power Rankings, where almost anything goes. Language may sometimes not be suitable for those reading at work, in which case I recommend you don't read these aloud or you get a new job. Like most PG-13 movies, we'll permit one F-bomb per post. Those devoid of a sense of humor need not proceed.
***For a week by week list of all our NBA Power Rankings this season, please visit this page.
NBA Power Rankings
| | |
| --- | --- |
| 1 | |

San Antonio Spurs

Sixty-two wins. Best record in the league. Top-three offense. Top-six defense. No big deal.

Last Week (1)

| | |
| --- | --- |
| 2 | |

Los Angeles Clippers

Something tells me all hell will break loose in Los Angeles if the Clippers lose to the Warriors. I also envision Chris Paul joining Kobe Bryant in France.

Last Week (2)

| | |
| --- | --- |
| 3 | |

Oklahoma City Thunder

What's a guy have to do around here to see a Rockets-Thunder second-round matchup? Hope the Warriors beat the Clippers and pray the Thunder don't mess up against the Grizzlies.

Last Week (4)

| | |
| --- | --- |
| 4 | |

Miami Heat

Doubt the Heat if you will, but I moved them up out of sheer faith. Plus, they lost to the Sixers and beat the Pacers in the same week. Scrubs or not, that's pretty awesome.

Last Week (6)

| | |
| --- | --- |
| 5 | |

Memphis Grizzlies

Appreciate this for a minute: The Grizzlies are the West's No. 7 seed, yet fifth in the power rankings. Dubya. Tee. Eff.

On a more pertinent note, if Memphis masters defending Oklahoma City's simplistic offense, the Thunder are in trouble.

Last Week (12)

| | |
| --- | --- |
| 6 | |

Houston Rockets

Will anyone else be shave-your-ass, flick-your-balls, swim-in-a-pool-of-witch-hazel surprised if it takes more than five games for Houston to eliminate Portland?

Last Week (3)

| | |
| --- | --- |
| 7 | |

Golden State Warriors

Shiiiiiiiiiiit. No Andrew Bogut? And Harrison Barnes still sucks? And Marreese Speights and stuff? Shiiiiiiiiiit.

Last Week (5)

| | |
| --- | --- |
| 8 | |

Chicago Bulls

Some people see the Bulls losing to the Wizards. I am not one of those people. I may secretly wish I had a ponytail like Joakim Noah's and the stern-faced features of Tom Thibodeau, but that doesn't mean I cannot be objective.

Last Week (9)

| | |
| --- | --- |
| 9 | |

Portland Trail Blazers

Whatever happens in the first round, just know that the Blazers played well for much of this season.

Spoiler: Portland will lose in the first round.

Last Week (13)

| | |
| --- | --- |
| 10 | |

Dallas Mavericks

Too bad Monta Ellis missed that game-winner against Memphis. Dallas had a better chance of stealing some games against the Thunder than they do the Spurs.

Last Week (8)

| | |
| --- | --- |
| 11 | |

Toronto Raptors

Trying to talk yourself into the Raptors raising hell in the playoffs is a lot like trying to fuck the inside of a grapefruit. The notion is intriguing, but unless you're a sex-addicted, fruit-fournicating tippler, you cannot bring yourself to do it.

Last Week (11)

| | |
| --- | --- |
| 12 | |

Brooklyn Nets

Nothing like staging an end-of-season tank job to avoid Chicago in the first round. Nicely done, Brooklyn.

Last Week (7)

| | |
| --- | --- |
| 13 | |

Indiana Pacers

Frequently stagnant offensive sets could kill the Pacers. Their defense can only do so much. They could go down in a haze of second-round disappointment if they meet Chicago or Brooklyn.

Last Week (14)

| | |
| --- | --- |
| 14 | |

Washington Wizards

Nabbing the top-five seed was impressive. I mean, the Nets were clearly tanking playoff-positioning style and the Wizards are essentially fist-round fodder for the Bulls, but they're nonetheless impressive.

Last Week (16)

| | |
| --- | --- |
| 15 | |

Phoenix Suns

Digesting this for a few days did little. It still sucks. The Suns should be in the playoffs. They were so fun. This still sucks.

Last Week (10)

| | |
| --- | --- |
| 16 | |

Charlotte Bobcats

This team is one stretch forward away from a more creative offense and—gasp—a 48-50 win season.

Last Week (15)

| | |
| --- | --- |
| 17 | |

New York Knicks

Carmelo Anthony and the Knicks closed out the season well. Should he stick around and they keep the rest of this roster intact, I dare to say their 2014-2015 ceiling is a first-round exit. What. Is. Up.

Last Week (18)

| | |
| --- | --- |
| 18 | |

Atlanta Hawks

Atlanta is the only playoff team ranked outside the top 16, because Hawks.

Last Week (20)

| | |
| --- | --- |
| 19 | |

Denver Nuggets

Out of sheer spite for the Timberwolves, I put the Nuggets here. If they come back healthy next season, they're going to be fun…and in need of trading J.J. Hickson or JaVale McGee.

LONG LIVE THE MOZGOV.

Last Week (22)

| | |
| --- | --- |
| 20 | |

Minnesota Timberwolves

Pretty sure this team just quit at the end. Whatever. Disappointing offseason time!

Last Week (20)

| | |
| --- | --- |
| 21 | |

Cleveland Cavaliers

Might this be the offseason Cleveland drafts properly and makes smart free-agency acquisitions and decisions and parlays its summer success into a playoff berth in the post-LeBron James era?

Maybe.

Possibly.

Probably not.

Last Week (19)

| | |
| --- | --- |
| 22 | |

New Orleans Pelicans

Please let the Pellies land in a top-three lottery spot. For the love of Brow, let it happen.


Last Week (21)

| | |
| --- | --- |
| 23 | |

Sacramento Kings

Really interested to see who the Kings draft. They're the rare combination of a team with logjams at every position, yet in need of upgrades at about four of them.

Last Week (23)

| | |
| --- | --- |
| 24 | |

Los Angeles Lakers

"Farewell, Mike D'Antoni. I'll miss your self-depracating postgame comments and creepy-looking-guy-on-Pringles-cans mustache. Anytime you need me to teach you how to win, I'll be here.

Mamba out."

Last Week (25)

| | |
| --- | --- |
| 25 | |

Detroit Pistons

Good for the Pistons. They absolutely suck, but they entered tank mode just in time to keep their top-eight protected first-round pick—so long as no one outside the league's eight-worst teams lands in the top three. Let's here it for pingpong balls!

Last Week (24)

| | |
| --- | --- |
| 26 | |

Utah Jazz

Watching the Jazz makes you appreciate how bad the Eastern Conference is. They have the worst record out West (25-57). Meanwhile, the Eastern Conference has four teams with an identical record or worse. Because while the Jazz are so, so, bad, the East is so, so disgusting.

Last Week (27)

| | |
| --- | --- |
| 27 | |

Boston Celtics

If the Celtics fall in position to draft Dante Exum, and they actually draft Dante Exum, that has to spell the end for Rajon Rondo, right? Asking for a friend here.

Last Week (28)

| | |
| --- | --- |
| 28 | |

Orlando Magic

YOU GUYS, Jason Maxiell played against the Pacers. It happened. That's how you close out a season.

Last Week (27)

| | |
| --- | --- |
| 29 | |

Philadelphia 76ers

Andrew Wiggins would look soooooo good next to Michael Carter-Williams and a healthy Nerlens Noel.

Last Week (29)

| | |
| --- | --- |
| 30 | |

Milwaukee Bucks

Perhaps the only top-three prospect Milwaukee doesn't need is Joel Embiid. So, it will probably draft Joel Embiid.

Last Week (30)