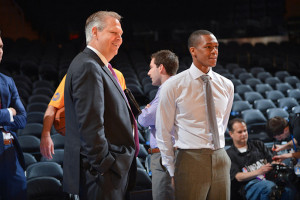 Is Boston Celtics general manager Danny Ainge above premature attempts to drum up a player's trade value?
I'm not sure.
Kidding.
Or am I?
No, I'm definitely kidding. But that doesn't make Ainge's infinite faith in Rondo any less weird.
Speaking with The Boston Globe's Gary Washburn, Ainge made it crystal clear he expects big things from Rondo moving forward:
I think Rondo's going to have a great year next year. I think he's going to have the best year of his career. Watching Rondo right now and watching him develop as a player I feel like he's headed towards the best year of his career.
Pretty definitive statements for a guy who's been known to entertain frequent offers for Rondo, wouldn't you say? Not that his statement is absurd. It's just, again, weird.
If Rondo remains healthy next season, it's very possible he winds up having a career year. He's already taken great strides in returning to form this season. Imagine what a few more months will do for his game.
Some people look at the numbers and see an inefficient scorer who still can't knock down threes consistently. To an extent, I agree. But I also see a wily point guard who has most of his mobility back. He's breaking down defenses with ease, getting up and down the floor without much issue and still creating for his teammates.
Watching him, I can't help but wonder: What would he look like surrounded by at least two lethal spot-up three-point shooters? Probably incredible. Super incredible.
In the back of your mind, you also have to wonder if Rondo will be with the Celtics all of next season, or even leading into next season. Ainge said "of course" when asked if he thinks Rondo would remain in Beantown, but he left the door open for trades like he always does:
Listen, I tell everybody the same, whether it's KG [Kevin Garnett], Paul Pierce, Rajon Rondo, whatever, I really love and respect all the guys but I can't ever promise anybody that [a trade] won't happen. That's not my job. My job is not assure them [they're staying] but to do what I think is best for the Celtics. I don't have an intention or plan [to trade Rondo] but I can never make that sort of promise.

I don't know who's going to be in a Celtics uniform. We have a lot of work to do this summer. I think Rondo is our best player.
More weird.
Ainge's comments should keep the conspiracy theorists at bay for now and maybe even through draft night and into free agency, but it won't stay that way for long. At some point, Rondo rumors will be out in full force, veritable or baseless, just like they always are. That's how it goes, and that's how it will continue to go.
Rondo can become a free agent after next season, at which point he has control over his own future. If the Celtics aren't on the verge of returning to prominence, he could leave.
Look at it from his perspective. He'll be 29 in July 2015. That's almost 30. That's almost old. He doesn't have time to wait around if he wants to win again. With plenty of teams presumably after his services, it might be tough to return if the Celtics aren't in position to win.
That alone is motivation for Ainge to trade him. But it also means nothing. Not to Ainge. We never quite know what he's thinking.
Just as the rumor mill will keep on churning out Rondo-related chatter, Ainge will continue to be a serial deflector disguised as a fountain of truth. That's not going to change. For the time being, this entire situation won't either.
Dan Favale is a firm believer in the three-pointer as well as the notion that defense doesn't always win championships. His musings can be found at Bleacherreport.com in addition to TheHoopDoctors.com.