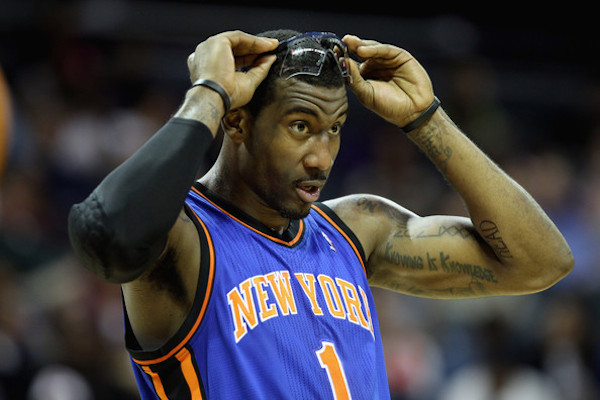 Holy. Crap.
On a Sunday teeming with what-ifs and regrets for the New York Knicks, Amar'e Stoudemire managed to steal the show. Prior to the Knicks' victory over the Chicago Bulls, the always confident, rarely pigheaded Stoudemire uttered 11 words that may alter your perception of him for ever:
'On paper we might be the best team in the league.' Amar'e Stoudemire w/ a straight face

— Adam Zagoria (@AdamZagoria) April 13, 2014
Arm yourselves with different kinds of paper jokes. This is not a drill. Stoudemire actually said this. This actually happened. And oh what a day for it to happen on.
Less than 24 hours after the Knicks were eliminated from playoff contention and ended Carmelo Anthony's streak of 11 consecutive NBA postseason appearances, Stoudemire said that. He could have said something else, anything else, yet he said that.
Most fans and pundits will understand what he's trying to say. "The Knicks underachieved. They should have made the playoffs. Their 10-4 record over the last 14 games is more indicative of the team they truly are."
Saying any of that, or some version of it, would have made sense. It would have been fine. Headlines—this one included—would have been crafted around something else entirely.
But again, Stoudemire looked at the paper, saw NBA greatness and said that.
There isn't a type of paper in existence—not even the one you roll with an herby substance and smoke until you laugh at the word "moist"—in which the Knicks look like the best team in the NBA.
Actually, that's not true. There is one. A (totally fictitious, not at all real) source confirms this is the "paper" he was using: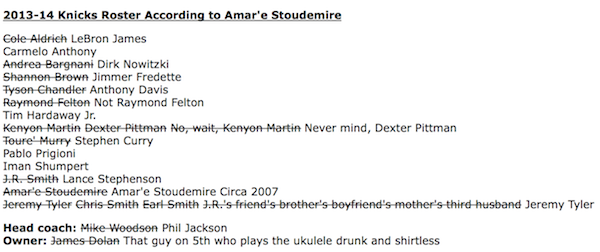 In an alternate universe, that roster exists and Stoudemire isn't in front of reporters, straight-faced, having just said perhaps the most ridiculous thing anyone associated with the Knicks said all season. This was that bad. And the timing was even worse.
Credit the Knicks for putting up a fight against the Bulls. Laud Anthony for continuing to labor through a shoulder injury when this season doesn't mean jack shit anymore. Rain praise all over Stoudemire for remaining healthy and productive this season. If you're feeling ballsy—and maybe inebriated—feel free to tout this team's chances next season, provided Anthony re-signs, Stoudemire stays healthy, Tyson Chandler remembers what defense is and the Knicks finally replace Raymond Felton with an adequate point guard or even some crack-addicted sociopath off the street.
Under no circumstances, though, should any of us be speaking like the Knicks missed out on a chance to win a championship this season. None of us should reference them like they could have been great. This team was never going to be great.
On paper, they had plenty of name recognition. Overpriced names (Andrea Bargnani). One-dimensional names (Stoudemire). Washed up names (Kenyon Martin). Confusing names (Chris Smith). Make-you-want-pull-out-your-hair names (J.R. Smith).
What they didn't have was a collective group of names that made you believe this team would play defense or match the incredible regular-season run they made last season. Without a doubt, we should have expected more than 35 wins. Stoudemire, though, expected more than that and then some. He expected the Knicks to contend, to look and play like some of the best.
Stoudemire looked at the Knicks, and he saw something that wasn't, that isn't, there.
Dan Favale is a firm believer in the three-pointer as well as the notion that defense doesn't always win championships. His musings can be found at Bleacherreport.com in addition to TheHoopDoctors.com.