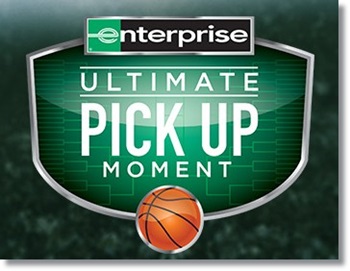 It's that time of year again. The field is set, the brackets are finalized, and college basketball fans are again in a frenzy for the 2014 edition of March Madness.
The NCAA Tournament is easily the most anticipated postseason playoff system in all of sports as even the most casual hoops fan can't resist filling out a bracket in their local office pool.
This year, Enterprise Rent-A Car has partnered with the NCAA to come up with the Ultimate Pick Up Moment Bracket Challenge, which showcases videos of the NCAA Tournament's all time Pick Up moments, paired up in a 16 team bracket, and is hosted by official spokesman Kenny "The Jet" Smith.
Fans are asked to log onto Enterprise's Ultimate Pick Up Facebook App (if page doesn't load, click the 'X' on toolbar) beginning on Monday, March 17th to follow and vote for their favorite March Madness all time moment, until a singular "Pick Up" moment is declared the winner. Instead of draining buckets, fans' votes and follows will determine which videos advance to the next round.
Along the way and leading up to the Elite Eight Round, an unbelievable amount of prizes are up for grabs ranging from foam fingers, mini hoops sets, $200 gift cards, an all inclusive Final Four viewing party pack, and even a chance to enter a sweepstakes to win 2 tickets and a trip to the the 2015 Final Four in Indianapolis. The more times you vote, the more chances to win.
THD, along with Bullz-Eye.com, Next Impulse Sports, Guys Gab, and the stellar writers over at the Sporting News have all been carefully selected as official partners on the Enterprise Ultimate Pick Up Bracket Challenge, giving us exclusive opportunities to reward fans for their support and participation in the campaign.
In addition to voting for the best Pick Up moments, our THD readers are also invited to an exclusive hour long Twitter chat session on Wednesday, March 19th @ 1PM using the hashtag #EnterpriseNCAA, where 4 winners will receive a mini basketball hoop set and $25 NCAA E-Gift Card. Stay tuned to THD for more updates.
So check out the video below, visit the other great sites above to check out a few other top all time moments, then head over to Enterprise's NCAA Bracket Challenge on Facebook to vote for the the NCAA's top Pick Up Moment.
Featured Pick Up Moment…..
The Putback
In the 1983 NCAA Championship Game, NC State's Lorenzo Charles instinctively redirects Derrick Wittenburg's last second desperation shot into the basket to give the Wolfpack and legendary coach Jim Valvano the upset win over the highly favored Clyde Drexler and Hakeem Olajuwon led Houston Cougars. Footage of Charles dunk and Valvano's ecstatic celebration is stock footage for any NCAA Tournament highlights.
A few of the other video nominees are……
In Tribute
Following the untimely passing of teammate and friend Hank Gathers during the 1990 WCC Tournament due to a heart condition, Loyola Marymount guard Bo Kimble helped lead the #11 seeded LMU Lions all the way to the Elite Eight in the NCAA Tournament, regularly shooting his free throws left-handed in memory and honor of his fallen teammate.
Smart Shot
In one of the greatest finishes to a Championship Game ever, Indiana guard Keith Smart sank two shots in the final minute, but none more infamous than his game winner in the corner on a missed front end of a one-and one by then Syracuse freshman standout Derrick Coleman, winning Bob Knight's Indiana Hoosiers the 1987 NCAA Championship.
Rebound Record

The 1968 NCAA Championship was memorable for many reasons as UCLA beat out North Carolina in the Final behind future Hall of Fame center Lou Alcindor. But in an epic rematch during the Final Four, UCLA got revenge on Midwest Champion Houston, the team that dealt them their lone loss over 2 seasons earlier in the year, despite the impressive play of Cougars big man Elvin Hayes, who brought in a still standing Tournament record 97 rebounds over the entire Tourney.
Be sure to check back with THD often on updates on how you can win prizes and giveaways in the Enterprise Ultimate Pick Up Moments Bracket Challenge.
Allen Moll has been a lifelong NBA and NCAA College Basketball fan who watches and studies games religiously, and coaches youth basketball in his native Lehigh Valley region of Pennsylvania. Allen has also provided content to Bleacherreport.com, Upperdeckblog.com, Cleveland.com, CSN Philly.com, Buckets Magazine, in addition to being a tenured NBA and NCAA columnist for TheHoopDoctors.com.