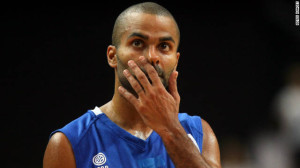 Naturally, international players who become NBA stars always have stong roots back to their homeland. It's always evident during the Olympics or any form of international competition. Tony Parker is no different.
Parker says he'd like to play 5-6 more seasons in the league before ultimately finishing up his playing days in his native France. Excellent gesture, but will he have anything left in the tank?
"I am going to play in the NBA for 5-6 more years and I will play my last season with ASVEL. My dream is to play the season with ASVEL in the new arena" said Parker.
H/T: Sportando.com