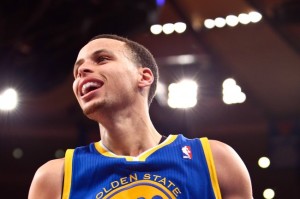 Ray Allen broke Reggie Miller's 3-pointers-made record a few years ago and the fact that he's still playing is going to make it extrememly difficult for anyone to ever catch him. But, the way Steph Curry is conducting his business, you have to think that he may give it a good run.
Last season, Curry set the single-season 3-point record (272) and on Sunday he set another record. He now has the most 3s in back-to-back seasons. He may own them all when he's all done.
With that three-pointer, Stephen Curry has hit 479 threes over the past two seasons, the most threes in back-to-back years in NBA history

— GSWStats (@gswstats) March 17, 2014
That happened during a win over Portland las night. Oh yeah, there's still a month left in the regular season.