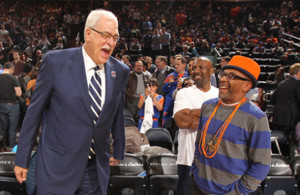 The speculation is over. Phil Jackson has agreed to "oversee" the New York Knicks according to the NY Post. He will likely serve as team president, a role currently held by Steve Mills (however, Mills will remain with the team in a modified role). Details are still being ironed out, but you can safely assume that Jim Dolan will pay Jackson in excess of $10M perseason.
This move certainly makes a splash and generates headlines, but may not mean much on the court. Jackson is unproven as an executive so there's no need to get too carried away just yet.
Phil Jackson has reached an agreement in principle to oversee the Knicks basketball operations and "president'' will be in his title, according to a league source.

All that's left is the lawyers finalizing the last contract details by week's end before Jackson officially returns to the organization that drafted him and where he won two titles as a player.

Some issues during the last couple of days revolved around his living arrangements. Jackson lives in Marina Del Rey, Calif., with his fiancée, Lakers president Jeanie Buss. Jackson is expected to live in New York during the season, but do some commuting. Buss visits New York on business periodically.