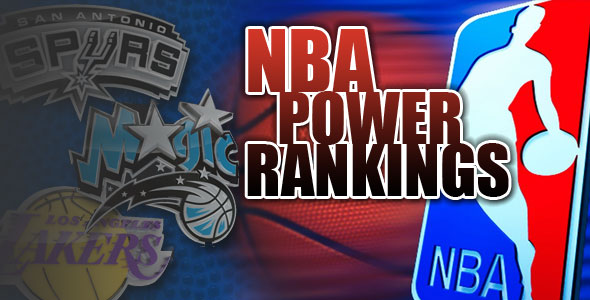 Three cheers, eight fist-pumps and infinite twerks for movement.
The NBA is rife with movement this week. Goliaths fell, Davids ascended and the enfeebled experienced success.
Translation: It's been weird in the NBA lately.
(Spoiler alert.)
(Seriously.)
(Don't read what comes next if you don't want to ruin the below contents.)
(I'm not joking.)
(Okay, here we go for real).
Only four teams remain lodged in last week's spots. The 26 other factions Shimmy Shimmy Cocoa Puffed their way up or down the power rankings ladder. It was, again, strange. Especially near the top.
In recent weeks, the top of the league's hierarchy has been a signboard for stability. Powerhouses rip-rolled inferior opponents. That's how it was going down. This week, though, there's a new sheriff in town, as the Miami Heat, along with the perplexingly reeling Indiana Pacers and not-quite-themselves-again Oklahoma City Thunder have fallen.
The oops-we-still-don't-play-defense Portland Trail Blazers, meanwhile, have officially placed themselves outside elite ranks. And the Cleveland Cavaliers are still funny. And the Philadelphia 76ers are still holding open tryouts at local dumper fires. And the Brooklyn Nets are now both overrated and amazing.
Enough of this introduction, buttering-you-up, bullshit, though. Let's get on with it.
(Spoiler, Part II: You were buttered up using imitation I Can't Believe It's Not Butter.)
**Welcome back to The Hoop Doctors' PG-13 NBA Power Rankings, where almost anything goes. Language may sometimes not be suitable for those reading at work, in which case I recommend you don't read these aloud or you get a new job. Like most PG-13 movies, we'll permit one F-bomb per post. Those devoid of a sense of humor need not proceed. 
***For a week by week list of all our NBA Power Rankings this season, please visit this page.
NBA Power Rankings
| | |
| --- | --- |
| 1 | |

San Antonio Spurs

Eternally. Excellent.

Last Week (6)

| | |
| --- | --- |
| 2 | |

Los Angeles Clippers

Blake Griffin is a baaaaaaad man. Now it's time for the Clippers to show us they're more than just a regular-season team.

Last Week (3)

| | |
| --- | --- |
| 3 | |

Houston Rockets

Even after a loss to the Thunder, this whole Dwight Howard-James Harden thing feels right.

Last Week (4)

| | |
| --- | --- |
| 4 | |

Oklahoma City Thunder

Not even a win over the Rockets can erase the taste of Jodie "I dropped 42 on your bitch asses" Meeks.

Last Week (2)

| | |
| --- | --- |
| 5 | |

Miami Heat

No one asked the Heat if it was okay the NBA regular season spanned longer than 55 games this year.

Last Week (1)

| | |
| --- | --- |
| 6 | |

Memphis Grizzlies

Courtney Lee is the best player no one ever wants. Fittingly enough, the Grizzlies are the best team no one save for the cast of Nashville ever watches.

Last Week (7)

| | |
| --- | --- |
| 7 | |

Golden State Warriors

Things are finally starting to come together in Oakland, which naturally leads us all to believe it's only a matter of seconds before they fall apart.

Last Week (8)

| | |
| --- | --- |
| 8 | |

Indiana Pacers

Offense in Indiana has been harder to come by than a picture of Miley Cyrus not looking like a tongue-wagging, half-dressed sociopath.

Last Week (5)

| | |
| --- | --- |
| 9 | |

Brooklyn Nets

We've reached the point of the season where everything the Nets do is mistaken for God speaking to us through Marcus Thornton.

Last Week (11)

| | |
| --- | --- |
| 10 | |

Toronto Raptors

Had a dream Toronto was one of the NBA's best two-way teams only to realize I wasn't dreaming, prompting me to instantly regret the "Canada Still Hearts Chris Bosh" tattoo I willingly had applied to my coccyx.

Last Week (12)

| | |
| --- | --- |
| 11 | |

Dallas Mavericks

Just when you start to think the Mavericks could do some serious postseason damage, they start boycotting the defensive end of the floor.

Last Week (10)

| | |
| --- | --- |
| 12 | |

Chicago Bulls

What happened against the Spurs was a disaster. Nonetheless, the Bulls continue to ride that win over the Heat along with every single Joakim Noah facial expression into the top 12.

Last Week (16)

| | |
| --- | --- |
| 13 | |

Washington Wizards

Washington is one stretch 4 away from being a royally raw, throbbing and pus-filled hemorrhoid in Miami's postseason ass.

Last Week (14)

| | |
| --- | --- |
| 14 | |

Portland Trail Blazers

No habla "defense." 

Last Week (13)

| | |
| --- | --- |
| 15 | |

Phoenix Suns

Eric Bledsoe is coming back in time to help Phoenix just miss the playoffs.

Last Week (9)

| | |
| --- | --- |
| 16 | |

Minnesota Timberwolves

Disaster was averted against the Bucks. And thank the powers at be it was, otherwise Kevin Love may have been the first player to demand a trade one month after the NBA's trade deadline.

Last Week (14)

| | |
| --- | --- |
| 17 | |

Charlotte Bobcats

There's something hauntingly beautiful about Al Jefferson's ability to score despite a recurrent refusal to look at the basket.

Last Week (17)

| | |
| --- | --- |
| 18 | |

New York Knicks

A 10-SPOT JUMP? AM I INSANE?

No, the Eastern Conference is just that brick-to-the-testicles bad.

Last Week (28)

| | |
| --- | --- |
| 19 | |

Detroit Pistons

Chances Joe Dumars has a job next year are identical to the odds of you being struck by lightning while doing a naked rendition of the Electric Slide in oncoming traffic on successive Wednesdays.

Last Week (18)

| | |
| --- | --- |
| 20 | |

New Orleans Pelicans

With Anthony Davis: Really, really, really, really, really, really fun to watch.

Without Anthony Davis: Really, really, really, really, really painful to watch.

Last Week (26)

| | |
| --- | --- |
| 21 | |

Los Angeles Lakers

Kobe Bryant is done for the season, so prepare yourselves for more games in which Kent Bazemore leads the Lakers in field-goal attempts.

God help us all.

Last Week (26)

| | |
| --- | --- |
| 22 | |

Utah Jazz

Consider the Jazz lucky since they lost to the Hawks at home, which at this point equates to being pick-pocketed by a blind dipsomaniac with no arms.

Last Week (20)

| | |
| --- | --- |
| 23 | |

Cleveland Cavaliers

We've officially reached the "Fuck this year, lottery here we come. Won't you please come back LeBron James? We promise to make a run at Kevin Love or LaMarcus Aldridge if you do" point of Cleveland's season.

Last Week (19)

| | |
| --- | --- |
| 24 | |

Boston Celtics

Rajon Rondo can shoot now. Like, actual jumpers.

Question: Has hell also frozen over?

Last Week (25)

| | |
| --- | --- |
| 25 | |

Atlanta Hawks

Really hoping the Hawks start showing up for games with "LOL We'd rather be Octopushing" scrawled across their jerseys.

Last Week (23)

| | |
| --- | --- |
| 26 | |

Denver Nuggets

Time is running out for the Nuggets. If they want a top-seven pick, the Knicks aren't going to get it for them. I move Brian Shaw revokes his "No nachos or pizza in the locker room" rule.

Last Week (27)

| | |
| --- | --- |
| 27 | |

Sacramento Kings

"We're better than our record reflects." -At least one Kings fan every second of every hour of every day.

Last Week (22)

| | |
| --- | --- |
| 28 | |

Orlando Magic

Almost considered moving the Magic up 15 spots solely because they were able to insult D12 with one of the most half-assed tribute videos I've ever seen.

Last Week (24)

| | |
| --- | --- |
| 29 | |

Milwaukee Bucks

Prostate exams are typically more enjoyable than Bucks games. 

Last Week (29)

| | |
| --- | --- |
| 30 | |

Philadelphia 76ers

Winning is for chumps.

Last Week (30)