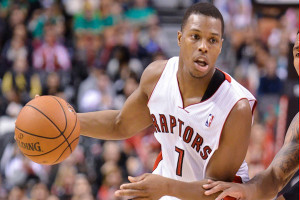 Kyle Lowry is having one helluva season.
And he's about to have one helluva summer.
After assuming inconsistent roles with the Memphis Grizzlies and Houston Rockets through the first six seasons of his career, Lowry has found a home with the Toronto Raptors. He's averaging 17.3 points and 7.8 assists per game this season, making him an unquestioned All-Star snub.
Lowry's meteoric rise couldn't have come at a better time, either. He will hit unrestricted free agency this summer, at which point he's expected to be met by a variety of suitors waiting to hand him large sums of cash. According to Basketball Insiders' Alex Kennedy, the Miami Heat could be among his many courters—minus the large sums of cash:
League sources have also speculated that the HEAT could emerge as a potential suitor for Lowry, depending on what happens with LeBron James, Dwyane Wade and Chris Bosh this summer. If they decide to opt out and ink new long-term deals, it would create some cap space for Miami and the HEAT could make a notable free agent like Lowry an attractive offer. It might not be as much as he could get from other teams, but he may be tempted to play alongside the Big Three and have a chance to contend for a championship. Lowry would make Miami a much scarier team, giving them a significant upgrade over Mario Chalmers at point guard.
Miami may indeed be in the market for a point guard with Chalmers slated to become a free agent as well. But if they're going to chase Lowry, they'd better get in line.
Playing alongside the Big Three, who could be chasing a third or fourth NBA title if they stick together through next season, is one heck of an opportunity. Going on 28, though, Lowry might not care about that championship cache enough to take a drastic pay cut.
This is Lowry's chance to cash in, to receive a contract exceeding $10 million annually. Chances of him accepting a pact worth roughly half that just to play alongside LeBron James, Chris Bosh and Dwyane Wade are beyond slim.
Should any member of the Big Three leave Miami—so, LeBron or Bosh—then perhaps Lowry becomes a more realistic possibility. But aside from understanding the Heat's interest—Lowry can be used on or off the ball, making him the perfect complement to LeBron—don't expect their pursuit to go beyond preliminary inquiries.
Lowry is going to be a hot commodity. When you consider how likely it is that the Big Three and Carmelo Anthony stay put, this summer's free-agency class is vastly overrated, bordering on shallow. As a fringe All-Star, Lowry is going to generate some seriously high-priced Buzz.
Just to give you an idea of how much interest he'll garner, consider what Yahoo! Sports' Adrian Wojnarowski says here:
Ujiri passed on a chance to trade Lowry at the deadline, and wants to sign him to a long-term extension this summer. Lowry could command $10-12 million a year on the market, especially in a summer where the Los Angeles Lakers have cap space and a running mate for Kobe Bryant.

[…]

Morey and McHale still felt strongly about Lowry and his talent, and made a bid at the trade deadline to bring him back to the Rockets, league sources said.
First thing's first: I would love to know what the Houston Rockets' offer for Lowry was. I imagine it was built around Jeremy Lin, since the Raptors were interested in him when he was a free agent in 2012.
Mostly, though, I'm amazed at Masai Ujiri. The fact that he wants to keep Lowry says a lot. He doesn't overpay for players. Not in trades, not in free agency. It just doesn't happen. If the Raptors believe Lowry could be worth upwards of $10 million annually, there's no telling how a financially cavalier team may value him.
Could he average $11 million a year? Perhaps $12 million? More?
Commanding that kind of contract means he will be paid comparably to, if not more than All-Stars Stephen Curry and Jrue Holiday. Think about that.
Then think about the Heat's chances of signing him at a discount, even if it's not as steep of a pay cut as initially imagined.
Finally, think of the best way to tell the Heat, if they are in fact interested, it's just not going to happen. Lowry has played himself out of their projected price range, earning himself a raise of All-Star proportions that Miami (likely cannot afford to finance.
Dan Favale is a firm believer in the three-pointer as well as the notion that defense doesn't always win championships. His musings can be found at Bleacherreport.com in addition to TheHoopDoctors.com.