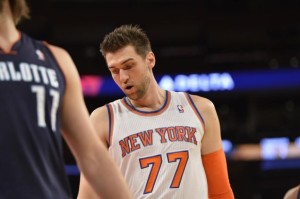 Enough Phil Jackson talk. Let's discuss Andrea Bargnani.
You know Bargs. The bouncy-haired Italian who hasn't played since Jan. 22. The one the New York Knicks gave up three draft picks, Steve Novak, Marcus Camby and Quentin Richardson for. Yeah, that Bargs.
Well, according to Bleacher Report's Howard Beck, Bargs is with the Knicks largely because Creative Artists Agency convinced owner James Dolan to make the trade:
Since then, CAA has only dug its tentacles deeper. The agency represents Carmelo Anthony, J.R. Smith, coach Mike Woodson, assistant general manager Allan Houston and director of player personnel Mark Warkentien. Wesley played a role in Mills' hiring last fall.

And it was CAA, according to sources, that persuaded Dolan to make the ill-fated trade for its client Andrea Bargnani—over the concerns of the Knicks' front office.

"If (Jackson's hiring) breaks the stranglehold of CAA, I want it to happen," said an agent who does business with the Knicks. "I can't see him in a million years working with them."
Beck's entire piece is worth a read if you've been following the Zen Master nonsense. His perspective is a combination of unique, refreshing and informative, providing great insight into how deep the Knicks' (unfortunate) CAA ties run.
But this Bargs thing. Wow. It's typical Knicks doing typical Knicksy things, but wow.
Whatever spell CAA has Dolan under is unprecedented. It's rivaled only by the trance Isaiah Thomas sent him into more than five years ago. If CAA says jump, Dolan jumps. In this case, they said, "Bend over, Jimmy. Fleece your team of valuable draft picks and show Toronto Raptors general manager Masai Ujiri you're nothing more than a sniveling tyrant who can actually be manipulated by a select few."
Like he always seems to do for CAA, Dolan submitted, folding to their spell. Now the Knicks don't have a 2016 first-rounder.
To be fair, this is the corner New York has painted itself into. The Knicks need Carmelo Anthony to stick around, and it's clear they believe CAA has the ability to convince him to re-sign, otherwise half the crap that happens at Madison Square Garden wouldn't go down. If 'Melo wanted Bargs—he did support the trade at first—then the Knicks were going to give him Bargs, whether it was sanctioned or orchestrated by CAA or not.
Dealing for Bargs also helped the Knicks clear some additional cap for 2015. Novak's contract went through 2015-16, so there is that to consider.
But the price was too high to clear an extra $3 or $4 million off the books. In all likelihood, that deal wasn't even slightly motivated by 2015.
The Knicks went after a former No. 1 pick that Toronto was desperate to dump and still overpaid. That's so Knicks.
That's so CAA-puppeteered Knicks.
Dan Favale is a firm believer in the three-pointer as well as the notion that defense doesn't always win championships. His musings can be found at Bleacherreport.com in addition to TheHoopDoctors.com.